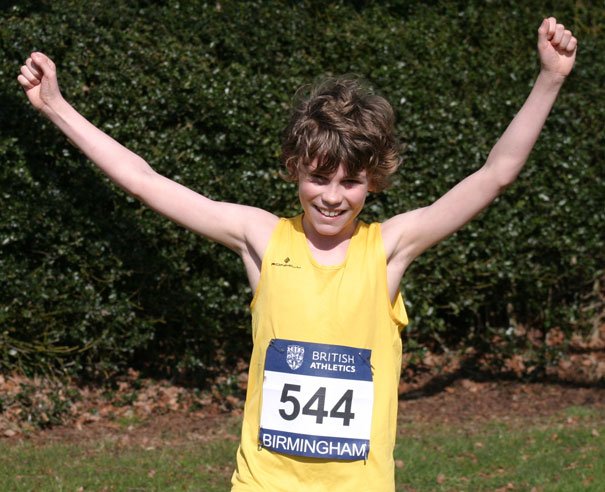 Over two thousand athletes from running clubs around the country assembled at Cofton Park, Birmingham, on Saturday 7th March to compete in the 2014/2015 British Athletics World Trials and Inter Counties Cross Country Championships incorporating the Cross Challenge Final.
The event attracted the best XC runners in the country, and included in the squad of athletes selected to run for Humberside were members of Beverley Athletic Juniors.
It was dry and firm underfoot on the moderate undulating course so conditions were perfect for a series of fast pace races. Spectators who had turned out in the fine weather to cheer on the athletes were rewarded with an excellent day's competition.
Six juniors had represented their county at last year's event and four of them, Aidan Glover, Isabelle Horrocks, Jacob Chastney and Edward Prew, were making their debut. Despite the large field of athletes, and a sizeable crowd of spectators the juniors all rose to the challenge.
There were notable performances from Becky Briggs and Morgan Dennis in the under 15 girl's race and Jonathan Dennison in the under-15 boy's race. Briggs knew that she would be up against strong competition but was not daunted by her opponents. She completed the two-lap 4000m course in a commendable 21:11. Where others simply quit or fall by the way side and there were many today, Morgan Dennis and Jonathan Dennison dug deep, gritted their teeth and showed such depth of character and fighting spirit, to battle through injuries sustained during the race finishing in 24:41 and 23:39 respectively.
In the under-17 women's 6000m race Eleanor Boyd displayed her improving performance in a strong field of 273 runners. Not daunted by the task ahead of her she finished in a meritorious time of 26:32, 245th position overall.
There coaches Neil and Rona Sergeant were very happy with all the performance from the youngsters and said, "We are very proud of our junior runners and they are a credit to their club and their county."
Although Humberside did not win any team or individual prizes the event provided valuable experience for all athletes who were selected to take part.
Beverley Athletic Club Juniors finishing times:
Under-13 boys – 3000m
Aidan Glover 15:09.
Under-13 girls – 3000m
Isabelle Horrocks 16:07
Under-15 boys – 4500m
Jonathan Dennison 23:39
Under-15 girls – 4000m
Becky Briggs 21:11; Morgan Dennis24:41.
Under-17 men – 6 000m
Edward Prew 27:17.
Under-17 women – 5000m
Eleanor Boyd 26:32.
Reported & Photos by Alan Glover