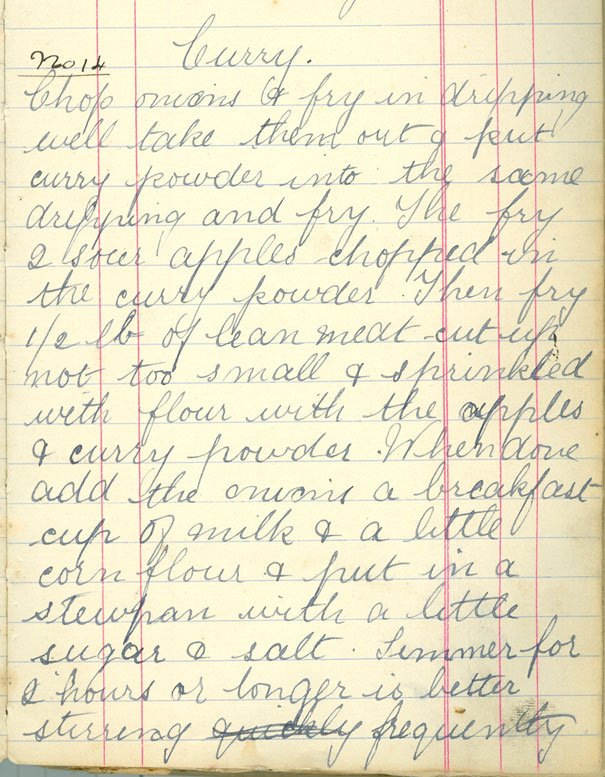 Today, the Indian Curry is a national favourite in the British cuisine. Whether it be a Korma, Tikka Masala, or Vindaloo, many of us can think of nothing better to have for a Saturday night takeaway or restaurant.
It's one of those things that seem to have been around in our culture for so long that we can't imagine what it would be like without it.
Now, the East Riding Archives have just uncovered what appears to be the earliest evidence of curry-eating in East Yorkshire, going back to Skidby in 1890, at a time when this meal had still to make its way to the top of our menus.
Tucked away inside the pages of Skidby woman Eleanor Grantham's recipe book are a set of brief and simple instructions for making 'curry'. The recipe is actually very similar to something we might have today, though perhaps a bit simpler, and its key ingredient is, of course, the curry powder.
Exactly what was in this curry powder would have depended on what was available to people in East Yorkshire at that time, and with spices being brought over on the ships from colonial India, one can imagine that these curries were more similar to authentic Indian cuisine than some of the milder versions that have since been developed in this country.
In other words, it would probably have 'blown your head off'. Collections Officer, Sam Bartle said:
"Nationally, we know that the first recipe for Indian style curry was published in 1747, but as far as the evidence is concerned it would seem that our curry-eating heritage in East Yorkshire begins in 1890. Realistically, we were probably eating it much earlier than that, but this is currently the oldest record we can find."
For anyone wanting to try a bit of Victorian curry, all they need do is follow these simple instructions from Eleanor Grantham:
Chop onions & fry in dripping well.
Take them out & put curry powder into the same dripping and fry.
The[n] fry the 2 sour apples chopped in the curry powder.
Then fry ½ lb of lean meat – cut up not too small & sprinkled with flour with the apples & curry powder.
When done add the onions, a breakfast cup of milk & a little corn flour & put in a stew pan with a little sugar & salt. Simmer for 2 hours or longer is better, stirring frequently.
If you think you can find an earlier curry recipe for East Yorkshire, or if you want to discover some more of Eleanor Grantham's recipes, visit the Beverley Treasure House.