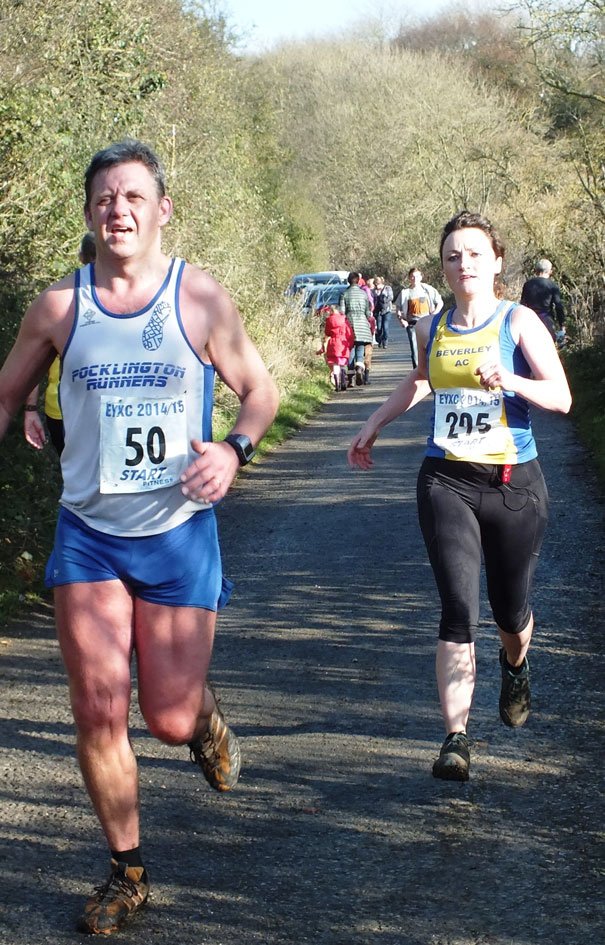 Beverley Athletic Club's male team put in an excellent performance to win the second race in the 2014/2015 East Yorkshire Cross Country series, held last Sunday at Drewton Woods, near South Cave.
Beverley also provided the winner of the women's race. The race is organised by Beverley AC. It covers a demanding and hilly six and a half miles, and was slippery in places following heavy rain the preceding day. However, the morning was sunny and clear, providing excellent conditions for cross country running among attractive autumnal scenery.
Beginning with a steep climb, the course ends with a fast downhill finish to the line which is very tough on tired legs. 34 Beverley AC athletes completed the race, which included a total field of 190 runners.
Beverley's men's team improved on their second place in the previous race at Bishop Wilton, coming first at Drewton Woods and beating City of Hull AC into second place. The team of six included four runners in the top ten finishers.
New member Timmy Davies ran well to finish an impressive 3rd overall in 43:09. He was followed by Lewis Holloway who took 5th place in 43:50. The remaining four team places were taken by Stuart Little in 6th place at 44:13, Lee Phipps in 8th place at 44:31, Darren Rodmell in 11th place in 46:04, and Darren Edge, taking 20th place in 47:49.
The winner of the men's race was Danny Derose (Goole VS) who finished in 42:14. Beverley's men lie in second place in the team league after two races, only 10 points behind City of Hull, who have traditionally been able to build up a much stronger lead. Beverley's runners hope to maintain this level of performance and contend for the team title this year.
As at Bishop Wilton, Beverley's Carla Stansfield was the clear winner of the women's race and had a good run to finish in 47:07, 46 seconds ahead of second place Nichola Jackson (City of Hull AC). Stansfield was 16th place overall in the race. She led the Beverley AC women's team of three, which was fourth overall. The other two counters were Elizabeth Evans and Lucy Stanford, who finished in 58:04 and 58:59 respectively.
The third race in the six-race series will be at Langdale End, on the North York Moors, on Sunday 14th December.
Beverley AC finishing times: Timmy Davies 43:09; Lewis Holloway 43:50; Stuart Little 44:13; Lee Phipps 44:31; Darren Rodmell 46:04; Carla Stansfield 47:07; Darren Edge 47:49; Phil Reese 48:13; Mark Dalton 49:03; Steve Evins 50:27; Ethan Dalton 50:46; Dave Millson 51:09; Paul Clark 52:23; Andy Johnson 53:00; Paul Furness 55:09; Peter Watkinson 55:59; Neil Bant 57:36; Mike Evans 57:49; Andy Tate 57:59; Elizabeth Evans 58:04; Lucy Stanford 58:59; Simon Pick 61:28; Steve Dawson 61:30; Ade Holland 62:05; Tanwen Gray 64:27; Alex Gymer 64:34; Carrie Smith 69:07; Alison Stabler 69:20; Tony Beck 70:29; Pam Atkins 75:00; Sarah Tock 79:53; John Boardley 81:41; Kay Farrow 81:43; Mary Carrick 87:15
Reported by Lewis Holloway