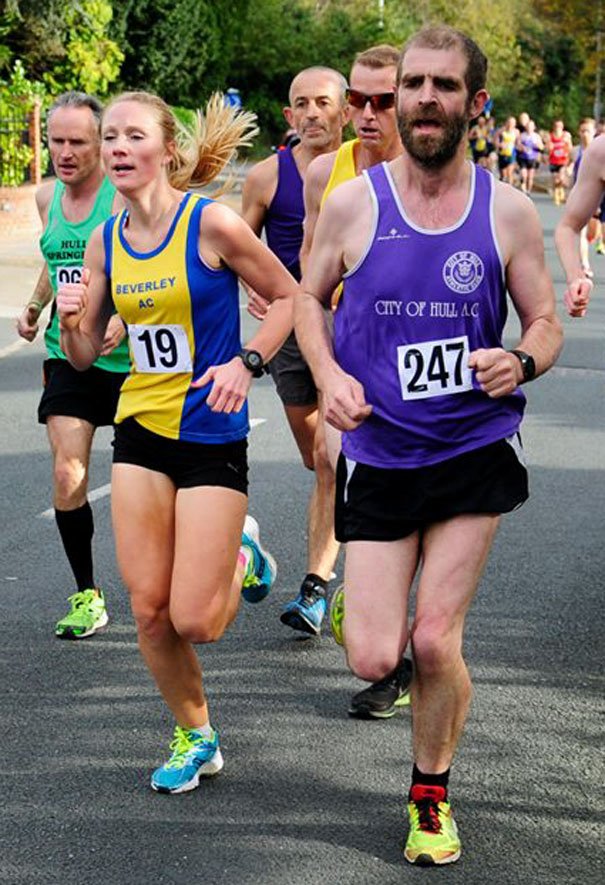 In a successful day for Beverley AC, four of its runners made the top 10 places of last Weekend's Haltemprice 10k.
This is a challenging race, starting at Wolfreton School. A fast downhill start then immediately changes on the left turn up West Ella Road as runners face a steady climb up towards Swanland, which then features an undulating section around the pond before a rapid last 3k downhill, back towards the start, though a sneaky little climb just before the end tests the last of the stamina left in the legs. Moderate head winds added to the task for some of the highest section, and all runners knew they had been in a race, but the sunny weather made for generally good racing conditions.
Timmy Davies is new to the club this year, and he led the Beverley team home taking 5th position overall in 35:41. Lewis Holloway turned in yet another one of his consistently good times finishing 7th in 36:27. Lee Phipps' continued improvement saw him follow Lewis over the line in 8th place with a time of 36:57. In 10th place overall and first woman in the race, Carla Stansfield again cemented her place as one of the best female middle-distance runners in the East Riding with a time of 37:45.
In 21st, place came Darren Edge. Never far away from the top places, his time of 39:49 was of his usual high standard. Pete Watkinson again impressed and Frank Harrison, who currently leads the Club's Handicap League with a race to go, turned in a good time in his age category, which should see him pick up points. Likewise, Alison Stabler, in 2nd place in the Handicap, 2 points behind Frank, again took time off her previous best and should be in the league points.
In total 27 club members took part, supported by good crowds along the route.
Beverley AC times: Timmy Davies 35:41, Lewis Holloway 36:27, Lee Phipps 36:57, Carla Stansfield 37:45, Darren Edge 39:49, Andy Johnson 40:39, Steve Evins 42:26, David Morrison 43:24, Andy Arnold 43:44, Lucas Meagor 44:57, Pete Watkinson 46:12, James Durham 46:40, Edward Lisney 47:07, Andrew Grainger 52:31, Alison Stabler 53:30, Andrew Wheeldon 54:13, Elaine Julian 55:12, Pam Atkinson 57:48, Christine Whitehouse 60:10, Sophie Wheeldon 60:42, Penny Booth 61:14, Kay Farrow 62:11, Ivor Roberts 62:57, Frank Harrison 63:14, Sarah Tock 64:16, Catriona Williamson 64:57, John Boardley 66:09
Away from Haltemprice, The Wistow 10k provided a PB for Steve Ogden. He aimed to beat his 55 minutes previous best and certainly did in 51:50 on a flat but very windy course. Steve Parkinson turned in a good time of 43:03 and was impressed with this friendly and well organised event, hosted by Selby Striders and run from the village of Wistow, half-way between Selby and Cawood.
Report by Andrew Grainger