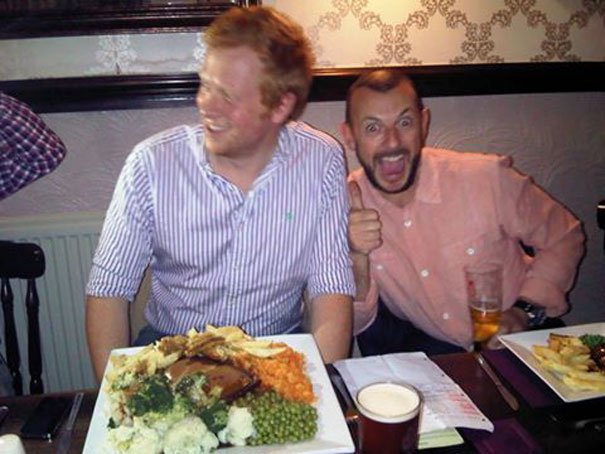 Beverley Round Table at their recent meeting Chairman Lawrence Green and his fellowTablers decided to take on the "Pie Challenge" at the famous Chestnut Horse Inn at Kelk.
Joined by last year's Chairman Carl, they took on the foody challenges, the world's hottest pie and the amazing 1 Kg belly buster pie. Despite their heroic efforts, they only saw one clean plate!!
Beverley Round Table are part of a World Wide Organisation for young men between 18 and 45 that offers its members a tremendous range of opportunities.
Chance to meet new people and enjoy new experiences .such as the National sporting weekend, clay Pigeon shooting and water skiing.
Round Table is a great introduction to a social group that extends not just locally but across the country.
Tablers enjoy personal and professional development by involvement in organising events such as service to the Community and Fund Raising.
Chairman Lawrence said,
"At the beginning of October, we went to see a few bands play live at `Fruit` on The Hull Marina. It's a fantastic venue, and we discovered a new local band `Mighty and the moon` we will be keeping an ear out for them."
Beverley Round Table has gained a lot of momentum and wants to shout about what they have been getting up to and what they have planned for the rest of the year.
Paul Beverley Table vice chairman commented;
"Our favourite event is coming up early next year. It is the annual Hike and Bike challenge. It all happens in the Lake District, and is a friendly competition between Round tablers from all over the UK, mixed with some great socialising all make for a fantastic weekend."
If all of this sounds interesting and something, you would like to be a part of then check out Beverley Tables Facebook page.
Furthermore, go to the National web site at www.roundtable.co.uk and see for yourself the many benefits of membership.
Beverley Round Table next evening, is a get together at the Tiger Inn at 7:30pm on Tuesday October the 21st.
They plan a friendly local night in a lovely pub where they are keen to invite potential new members.
Take that first step into fun, fellowship and fundraising, you won't regret it.