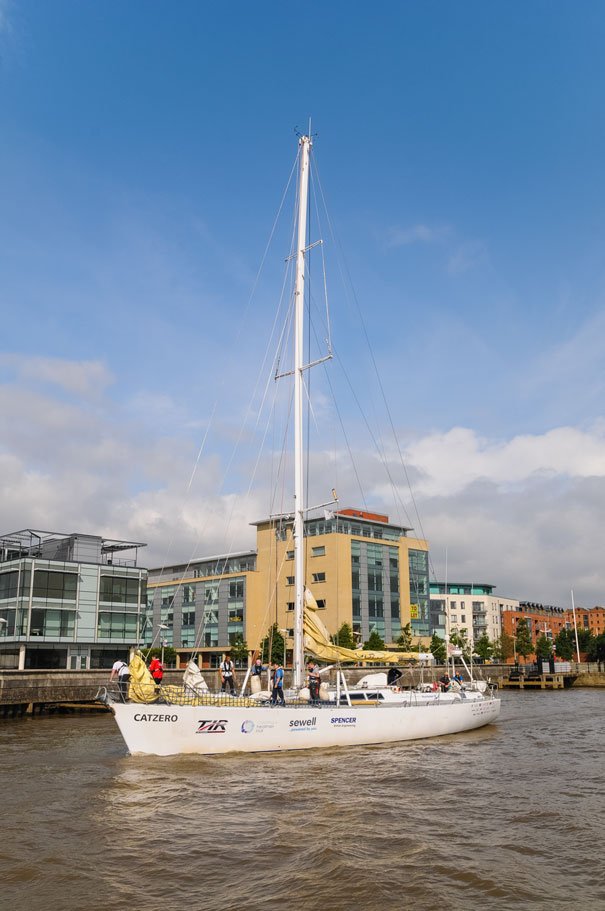 Jobless young people from the East Riding have embarked on a high seas adventure that could transform their lives.
The group are taking part in an eight-day sail to the Orkney Islands on board a 72ft round the world yacht.
During their voyage of self-discovery, they will be tested to their physical and mental limits as they help crew the yacht round the clock in all weathers.
The nautical challenge is part of a 12-week programme with youth development charity CatZero, sponsored by Beverley-based TIR Training and Deflog VQ Trust.
The crew also includes Colonel Rob Peacock, Commandant at the Defence School of Transport, Leconfield, who has been assisting the group from the outset of their programme.
Beverley and Holderness MP Graham Stuart joined well-wishers to wave off the crew as they set sail from Hull Marina.
Luke Gillett-Jones, 25, from Beverley, said: "I'm looking forward to just being out there and seeing the wonders of nature.
"It will be fantastic to see the sky at night without any light pollution. I'm also looking forward to seeing what this boat can do in rough weather. It's always more exciting when it's dangerous."
Gary Billaney, 21, also from Beverley, said: "I don't like heights and I can't swim but I don't mind hard graft.
"This will teach me how to bond with relative strangers and give me a lot more confidence in everyday life. I'm looking forward to going places that I have never been."
The crew will take three days to get to the Orkney Islands and will have a day to turnaround the yacht before sailing back. They are due to arrive back in Hull next Thursday.
Colonel Peacock said: "I first met the group at their introductory event and have seen them on and off throughout. Without doubt the most rewarding part has been seeing them grow into confident young people."
CatZero programme manager Pete Tighe said the sail was all about character building and "taking the young people out of their comfort zones."
He added: "They will feel an immense sense of achievement when they reach the Orkney Islands.
"When they get back they will have a story to tell. When employers say 'What have you done with your life?' they can say they have sailed a round-the-world yacht."
This is the first time that CatZero has run a programme where all the young people taking part have been drawn from Beverley and the East Riding. Three of the 12 people who began the programme have already found full time jobs.
Mr Stuart, who was instrumental in helping to secure sponsorship for the programme after highlighting the deprivation in his constituency, said: "I wanted to see the crew before they set off and wish them bon voyage. Sailing to the Orkney Isles is no mean feat."
Paul Downey, Chief executive of Deflog VQ Trust and TIR Training, said: "We have already sponsored one programme in Hull but with the help of Graham Stuart we realised there are people in Beverley and the East Riding who would benefit from the life changing experience that CatZero offers."
Beverley Job Centre helped to identify suitable candidates for the programme and has supported the young people throughout.
Angela Stabeler, Manager of Beverley Job Centre, said: "The group has really gelled and we have seen their confidence grow. Three months ago the sail seemed like a challenge too far but not anymore."
CatZero has helped more than 500 people into employment, education or training since it was set up five years ago, saving the taxpayer an estimated £14m by getting people off benefits and into work.