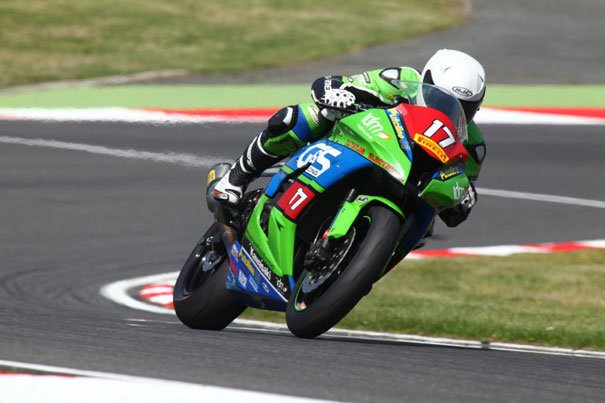 Two out of three G&S Racing Kawasaki riders successfully completed their races at Brands Hatch on Sunday with Kevin Van Leuven picking up points in the Stock 600 race and Tom Fisher recording his best result of the current campaign in the Stock 1000 class.
However, Dominic Usher was unlucky to slide off at Druids on lap 12 of the Stock 1000 race while disputing a top 15 position within a large group of riders.
Dutch rider Kevin Van Leuven rode a fine race in the Superstock 600 class to finish in 11th place and pick up another five championship points to take his total to 30, which places him 12th in the rider standings.
Starting from a fifth row grid position, Kevin was boxed in on the run to Paddock Hill and was pushed back to 19th on the first lap. However, he regrouped and began to make headway through the midfielders to 15th on lap six of 14. He made a pass on Paulo for 14th and with two laps remaining was up to 12th.
On the penultimate lap, he overtook James Lodge and mounted a challenge on Joe Francis, who was just half a second ahead. But he ran out of time and crossed the finish line in 11th place for another strong points finish.
Stock 1000 rookie Tom Fisher is getting to grips with the 1000cc Kawasaki and proved that by recording his best result of the season in 24th place. Although not yet in a position to score championship points he is making steady progress, which is a real confidence booster.
By the time he returns to Brands Hatch for the season finale in October, he will be looking to build on this performance and be knocking on the door of the top15.
Usher came to Brands Hatch full of confidence after his top five finish at Knockhill and qualified well in 11th place. But as the race began he was pushed wide and lost a lot of ground to complete the first lap down in 17th position.
He began to mount a comeback but then made a mistake on lap five and fell back to 24th. Once again, he began a recovery making it up to 19th on lap 11 but was unfortunate to slide off at Druids hairpin on lap 12 his race over.
Usher said;
"I am so disappointed with the crash. I qualified well and was anticipating a strong result. However, I got bundled out at the first corner and was riding to the limit to try and catch up again. I was beginning to make progress towards a point scoring position when I pushed a little too hard at Druids and slid off."
Mark Fisher, the team manager said;
"Dominic was trying so hard to replicate his result from Knockhill, but it wasn't to be. It all went wrong at the beginning of the race when he was pushed back as he then had to push hard to get back in touch with the leading group."
The next round is at Thruxton on August 3rd.