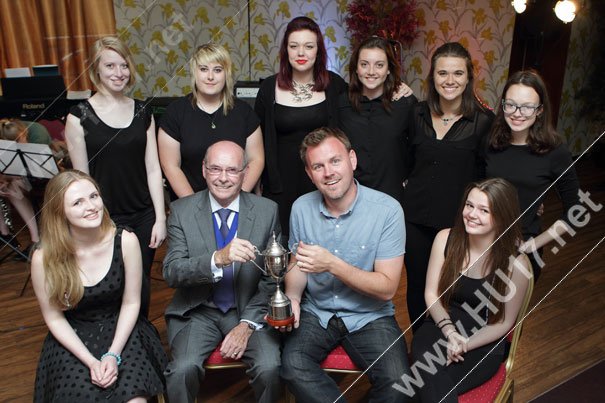 Longcroft School Gospel Choir have been acknowledged by Molescroft Parish Council for their contribution to the local community.
Jonathan Chapman, Assistant Head Teacher at the school was presented with silver cup ahead of the choirs Summer Soiree at Lazaat Hotel by the Chairman of the Parish Council, Mike Hildyard.
Cllr Mike Hildyard said;
"This award is only given in exceptional circumstances to individuals or organisations which have contributed to the quality of life of the Parish by giving up their time voluntarily and tend not usually to get the attention they deserve."
"As music is the international language and the food of life, what could be more uplifting in a community than its own choir both to the participants and the listeners, particularly when younger members of the community are involved, you are all credit to the school and the Parish."
Jonathan was completely unaware of the choir were to get an award. Having been kept in the dark and not allowed to leave the premises by Julie Harris, head of the music department.
With the assistance of the Vice Chairman of the Parish Council, Mac Fleming, Julie had managed to keep the presentation a secret.
Jonathan said;
"Since we formed in 2007 we have taken part in 160 gigs performing at many local events in that time, most recently at Beverley Armed Forces Day."
"The students are delighted for the recognition for all their hard work for doing something they love doing and we can grateful to the council for this award."
The Millennium Award was instigated by the Parish Council 14 years ago to recognise the start of the next 1000 years.
There have only been a handful of recipients in this period. The award is a silver cup which is held for a year, sometimes longer depending on future presentations.