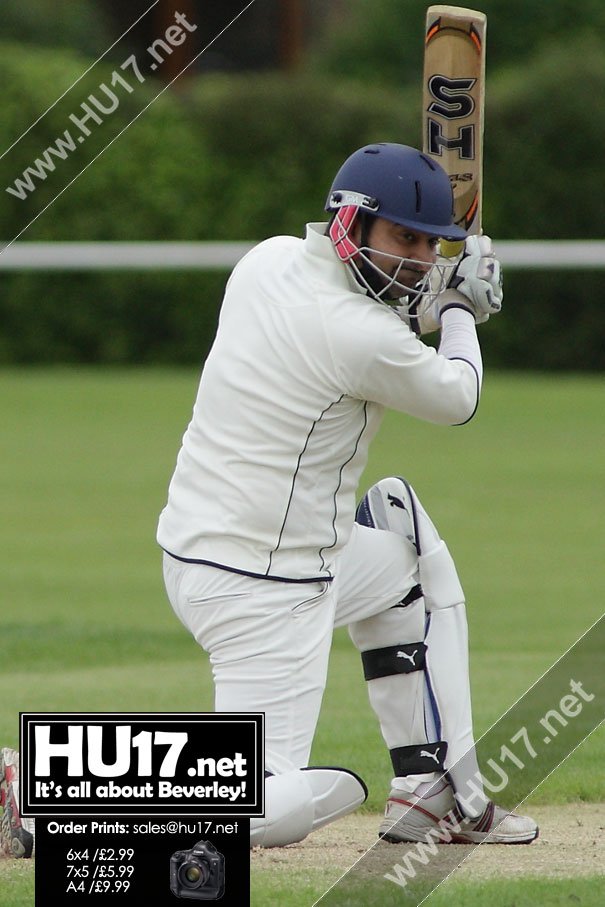 Beverley Town CC 1st XI were beaten by Sewerby despite outclassing their opponents with the bat they surrendered what was a commanding lead ending up with just 7 league points.
The defeat sees Beverley fall further behind the league leaders Woodhouse Grange in the York & District Senior Cricket League Premier Division.
Defeat left the skipper Jonathan Fisher feeling frustrated as his side failed to capitalise after the top order finally clicked into gear led by an aggressive 102 by Faisal Abid that included 13 4s and a six.
Speaking after the game about the defeat Fisher said;
"We got stuck in to bat on a pitch that looked like 175 would have been a good par score, but Abid certainly had other ideas. He dispatched the Sewerby bowling in his usual style scoring his first ton of the year."
"With others chipping in with 30s and 40s it took the total to our highest score of the year with 258, so at tea I was feeling pretty confident that with a good 50 over's in the second half we would get a positive result."
Town however were missing Matthew Mudd who was unable to make the trip to Sewerby for personal reason. The Clubs top wicket taker was clearly missed as Beverley struggled in the field and with the ball in hand as Sewerby ceased the initiative to claim a 5 wicket victory.
Commenting on his sides performance with the ball Fisher said;
"We couldn't have started much worse in the field, expensive bowling in the first few over's let the Sewerby batsmen get away without much effort, although we picked up a couple of early wickets we never had control of the run rate."
"Later on in the innings we got on the wrong side of a couple of poor decisions form the umpires, then when things were going as bad as they were  we put down a couple of fairly straightforward catches, so all in all it was a very poor fielding performance."
However there was some positives for Beverley and these were lost on Fisher, he remained very upbeat about the efforts shown by the younger players in the team, saying;
"It was encouraging to still have such a young bowling attack with Jamie Roe and Bradley Graham still bowling well at that level for U17s."
"Tommy Haytack continued his good form and was unlucky with some of the umpires decisions."
"Alex Morrell picked up the early wickets but it was unfortunately matched with too many extras and also looked like his injury has returned."
Next weekend Beverley Town Cricket Club will host Clifton alliance at the Norwood Recreation Ground and Fisher is hopeful his side will be boosted by the of key players as they look to get back to winning ways.
Sewerby beat Beverley Town Cricket Club by 5 wickets