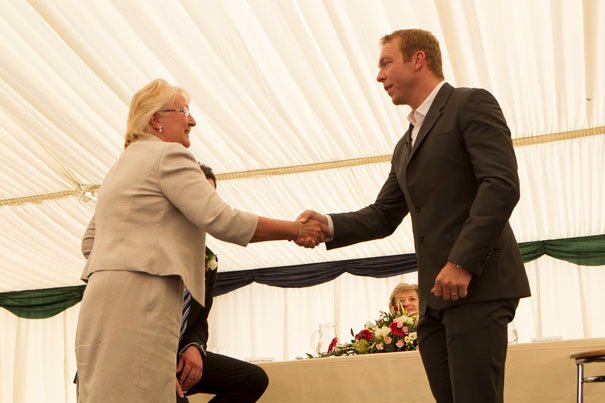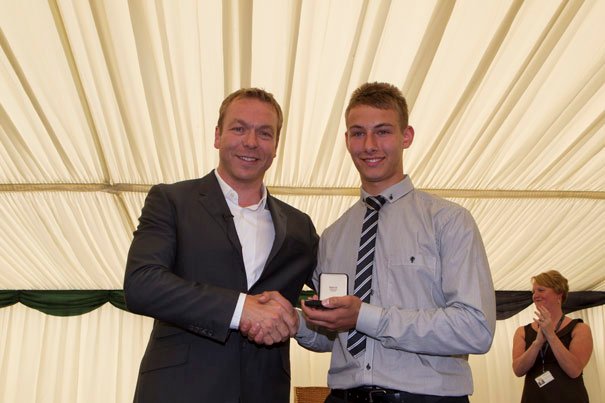 In keeping with the cycling theme here in Yorkshire; Bishop Burton College welcomed Sir Chris Hoy as their special guest to present certificates and awards to deserving prize winning students.
The multi-medal winning Olympian dashed across the county from the Grand Depart in Leeds on Friday especially to present the students with their awards.
He also had time for a Q & A where he had some encouraging words for students to follow their dreams, saying;
"Even if you have a crazy dream like becoming an Olympic Champion, it's all about the journey, not the destination."
Jeanette Dawson OBE, Principal and Chief Executive of Bishop Burton College said it was an honour to welcome Sir Chris, saying;
"It was incredibly important for our students and employers to have Sir Chris Hoy here today given that Yorkshire in hosting the Tour de France, it made it a very special and memorable day for them all, that he gave up his time for our students."
The ceremony took place in a giant marquee on the stunning campus in glorious July sunshine.
This year, which is the College's Diamond Jubilee saw the largest number of further education students ever to graduate from the College.
Over 1000 students graduated including 300 degree students who graduated at a ceremony on the 3rd July.
Jeanette Dawson OBE, the Principal of Bishop Burton College welcomed Sir Chris after he made a surprise entrance to Queen's "Bicycle Race".
She went onto commend further education students for their achievements and reported on an excellent year for the College and all its students. 20 courses have 100% retention, and 31 courses have 100% achievement.
Overall, nearly 200 Further Education students have achieved their qualifications with distinctions. Mrs Dawson went on to add that students not only achieve their main qualifications:
"As we saw in the London 2012 Olympics, and of course at the start of the Tour de France here in Yorkshire, a good supply of volunteers is always needed, and this applies locally too as more and more community events and competitions rely on the assistance of well trained volunteers."
"I am especially delighted therefore to report that Bishop Burton College students have contributed massively to this including by almost 300 students achieving an NCFE Level 2 Volunteering Qualification this year!"
"In fact, over the last 5 years 3,114 Bishop Burton College students have achieved a qualification in volunteering in addition to their primary qualification."
"I am proud of many things here at the College, but nothing more so than that our College has been acknowledged as a national case study for Exemplary College and Student Achievement in Volunteering."
"Our industry contacts are also key to our students' success."
"In total, over 700 employers provide direct support to the College and our students in providing the basis for applied research, trials work, valuable work experience and work placements, apprenticeships, and even in these hard times: sponsorship of both staff and students."
"We could not survive without them, and are extremely grateful for their continuing support."
Continuing the cycling theme, keen cyclist Joshua Dunham who achieved a Level 3 Extended Diploma in Sport (Coaching, Development and Fitness) was awarded the Dennis Hurst Memorial Prize for the Premier Further Education Student.