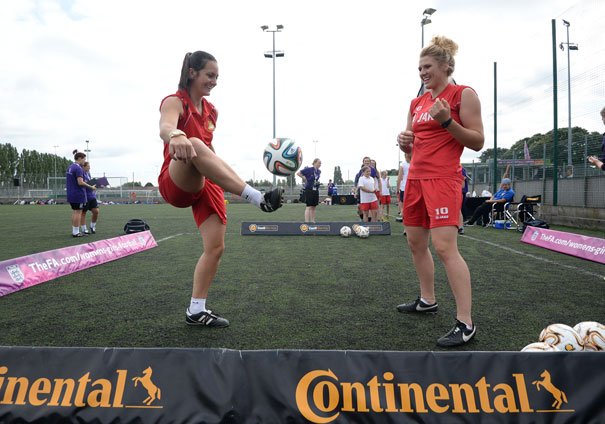 The FA Girls' Football Festival in association with Continental Tyres visited Hull.
The event was attended by 364 girls from local schools who got in the festival spirit at the University of Hull Sports and Fitness Centre, as they took part in the free programme aimed at increasing and retaining participation in the game. The event was organised with the support of the East Riding County FA and Hull City AFC Tigers Sport and Education Trust.
The participants, aged 5-16 years old, were accompanied by Doncaster Rovers Belles players Nicola Hobbs and Millie Bright, who took part in all of the activities on offer, including a question and answer session, giving the girls an insight into what its like to be an FA WSL footballer.
The format of the day was fun and active, combining football, lifestyle and music. FA approved coaches led the festival, and activities ranged from skills and drills to interactive games (target shoot, speed cage, batak boards), as well as mini matches inside an inflatable pitch.
Referee ambassadors Lucy May and Jane Simms delivered a refereeing workshop, whilst girls also had the chance to pose with the FA WSL trophy, the Cyprus Cup and The FA WSL Continental Cup. In addition, the FA WSL mascot Berry the Bear was in attendance alongside Hull City AFC mascots Roary the Tiger and Amber the Tiger. To add to the festival atmosphere, everyone had the opportunity to have their hair styled like their favourite WSL players, as well as get their face painted.
Speaking about the day Doncaster Rovers Belles and England Under 23 international, Mille Bright said:
"These events are great, and The FA and Continental do a really good job putting these festivals on because it's a relaxing environment for them to enjoy and experience football, rather than going to a club team where there's a bit more pressure. We need to drip-feed the girls so that they can develop and hopefully go on to star in the WSL, and events like today are only going to help with that."
FIFA referee, Jane Simms explained how the success of the FA Girls' Football Festival is helping to gather interest in refereeing as well as playing football.
She said:
"This event gives them an opportunity to sample a lot of activities, showing them that there are a number of career paths to go down in football, you don't just have to be a fantastic player. We have experienced brilliant take-up rates from girls going on to do their referee courses after coming to the FA Girls' Football Festivals."
Anyone interested in getting involved in football can contact East Riding County FA or visit www.eastridingfa.com
For more information please visit www.contisoccerworld.co.uk and www.TheFA.com/girlsfootball