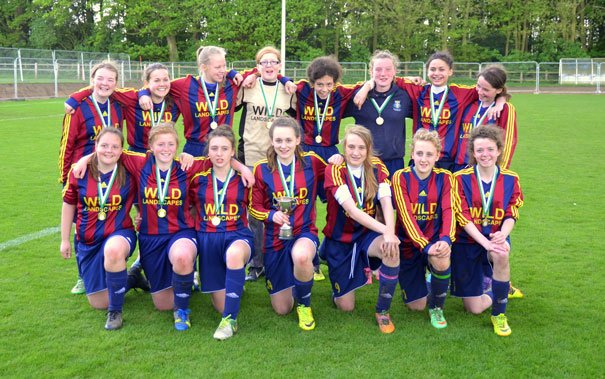 Mill Lane United Yellows won the u16 Girls League Cup as they collected their  third trophy of the season with a hard-fought  victory against hard-working  opponents North Ferriby at Bishop Burton College.
With goal keeper Jess Gray in superb form North Ferriby battled hard throughout the 80 minutes giving their high-scoring  opponent's little room on the ball as they chased and harried as if their lives depended on it.
The game was settled in 10minutes when midfielder Morgan Nagee found Tonya Storr in space before Storr calmly slotted  the ball under the advancing North Ferriby keeper Gray to give Mill Lane United Yellows a one nil lead which they held on to until the bitter end.
Normally renowned for their free-flowing  football it was the turn of  Yellow's defence  of Amy Radford, captain Emily Holliday, Lucy Crockett and Jess Pashby  to come to the fore, this they certainly did  as they held firm, looking well organised, committed and confident on the ball and  showing why they have the best defence in the league to limit their opponent's chances throughout  the game.
Attacking wise for the Yellows midfielder Tonya Storr was a constant threat down the left with her surging  runs, and fellow midfielder Courtney McConville dominated play throughout in an energy packed  performance. Both teams battled hard throughout and provided  an entertaining game for their  supporters were no quarter was asked or given.
For North Ferriby  goal keeper Jessica Gray was outstanding throughout with some brilliant saves, but ultimately, Mill Lane Yellows showed their experience of the big occasion as they ground out another victory that gave the girls their sixth successive League and Cup double. Man of the matches for Mill Lane were Tonya Storr and Morgan Nagee  chosen by the  Hull City Ladies Coach who watched the game.