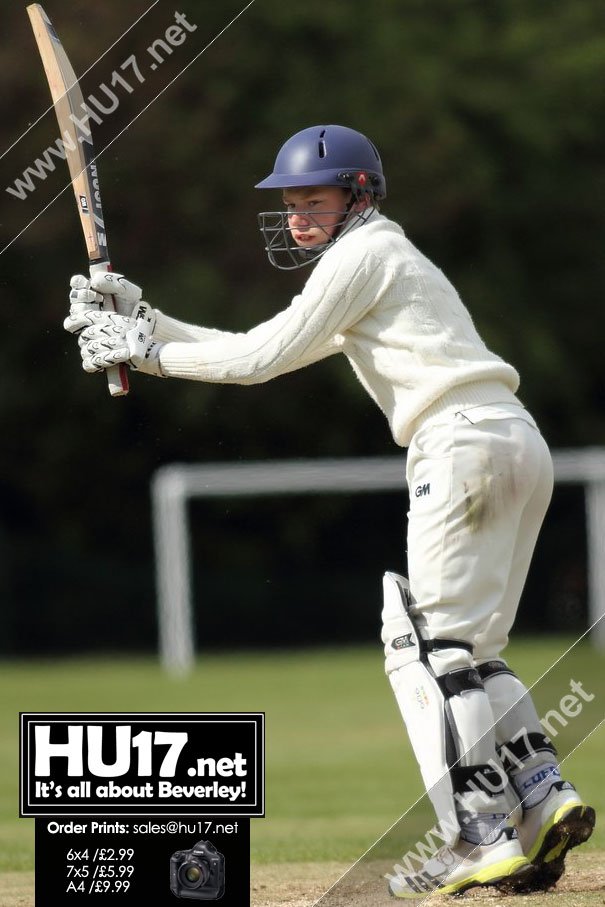 Sam Welburn Skipper of Beverley Town Cricket Club 3rd XI has described Kieran Simpson's first hundred for the club as fantastic.
Welburn was speaking after his side's defeat at the weekend in the Eastern Conference Division 1 to Cottingham was delighted for Simpson he said;
"It was a great moment to watch Kieran Simpson get his first 100 for the club. It's fantastic to see a continuous supply of young players come through at the club and perform so well."
An opening stand of 103 between James Broekhuizen (41) and Kieran Simpson laid the foundation for a substantial Beverley total. Chris Charles hit a rapid 24 and looked in great form before he was caught, but the day belonged to 16-year-old Simpson.
Welburn was very positive about batters, he said;
"We started strong and the opening partnership between Simpson and Broekhuizen was exactly what I wanted to see, it gave us a great platform for the other batsman to build on."
Beverley, however, fell just short of getting somethign from the game as the visitors posted a score of 213 with just nine balls left in the game claiming a two wicket victory.
Welburn added;
"I was disappointed, we couldn't back up the batting and get the result we wanted, and that I think we deserved."
Kieran O'Brian gave Town a good start with the ball with a wicket at 9 but parker began to dominate the Cottingham reply.
James Emery recovered from an untidy first spell to claim 4 for 54 but O'Brian (3-39) was easily the best bowler on display.
Despite his and his team-mates best efforts, and with the help of some profligate fielding, Parker (117 no) led his side home with nine balls to spare at 213 for 8.
Welburn said;
"Kieran O'Brian bowled very well, but we put down a couple of chances in the field which ultimately let us down. However, the team spirit from the first ball to the last was exceptional."
"If we can build on the positives for next week, then I think we have a good chance this season of been up near the top of the league."
Final Score
Beverley 3rd XI 209 for 3 lost to Cottingham 1st XI 213 for 8 by 2 wickets.