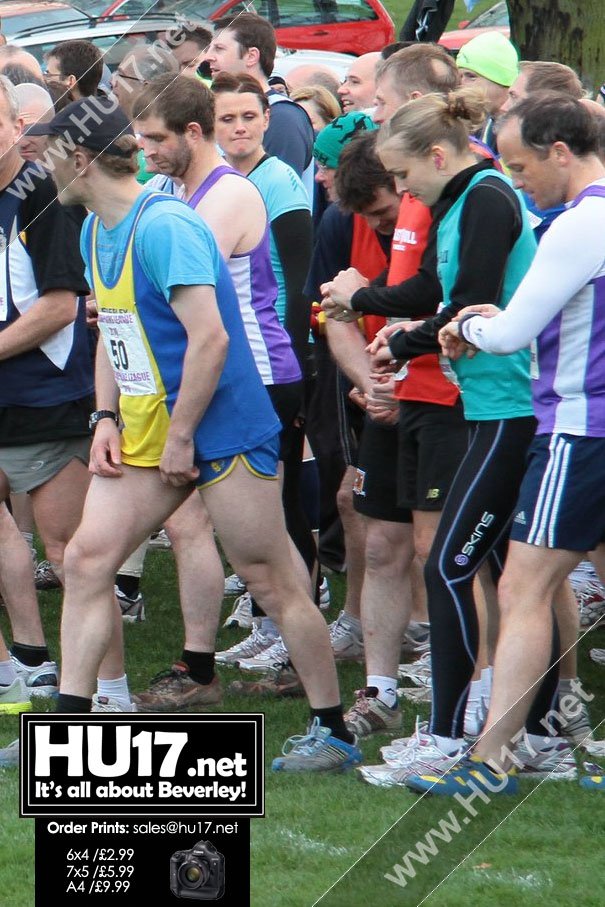 Athletes from local running clubs and from further afield gathered at Great Hatfield last Sunday to take part in the Hornsea 1/3 Marathon. Beverley AC put in an excellent performance, fielding the winner of the women's race and two top-ten runners in the men's race.
Although the weather was quite warm, a stiff breeze combined with showers slowed runners down on some parts of the 8.74 mile undulating rural course on country lanes around Great Hatfield. The race was the British Open National Championships for this distance, and was also the third designated handicap race for Beverley AC. The club fielded a total of 25 runners.
Beverley's Carla Stansfield convincingly won the women's race. Her time of 56:27 was good enough to give her 16th place in the race overall, and she was over 3 minutes ahead of the second placed female runner. Other Beverley women also ran well, including Zoe Dale and Tanwen Gray who were 9th and 10th women overall, and 2nd and 3rd in their FV40 age group, with times of 66:42 and 68:19 respectively.
The first Beverley runner to cross the line was Lewis Holloway who finished in 51:52, in 5th place overall. He took almost a minute off last year's time in this race. Also finishing in the top ten was Luke Davison, who was 9th in 54:02 in his first attempt at this race. Mark Dalton was next to finish in 55:15, in 12th overall and 2nd in his MV50 age group. He was chased in by Darren Edge, who was first in the MV45 age group, in 13th place with a time of 55:38. Peter Watkinson was 1st in the MV60 category, finishing in 65:26.
The Hornsea Third Marathon was organised by the Rotary Club of Hornsea and East Riding in support of Marie Curie Cancer Care. There were 312 finishers. The winner of the men's race was Phill Taylor of Bridlington Road Runners, who finished in 48:31.
On the same day, Beverley AC runners Jayne Dale and Andy Tate ran together in the Hardmoors Wainstones trail half marathon, finishing in 2 hours 43 minutes, coming in 31st and 32nd places.
The race starts at Chop Gates, north of Helmsley, and follows a circular route with 4 major climbs. Not for the fainthearted, the course includes the highest point in the North Yorkshire Moors with spectacular views across to Roseberry Topping.
Beverley AC finishing times at Hornsea: Lewis Holloway 51:52; Luke Davison 54:02; Mark Dalton 55:15; Darren Edge 55:38; Phil Reese 56:14; Carla Stansfield 56:27; Jim Harbidge 65:18; Jody Horth 65:22; Peter Watkinson 65:26; Zoe Dale 66:42; Tanwen Gray 68:19; Michael Anderson 70:09; Stephen Dale 71:47; Andrew Wheeldon 77:49; Allison Stabler 77:57; Jorg Hardege 80:13; David Robinson 81:09; Fiona Holland 82:13; Christine Whitehouse 87:24; Victoria Evins 88:49; Lynne Stabler 89:14; Frank Harrison 92:03; Caitriona Williamson 93:56; Penny Booth 96:05; Peter McNally 99:31
Report by Lewis Holloway