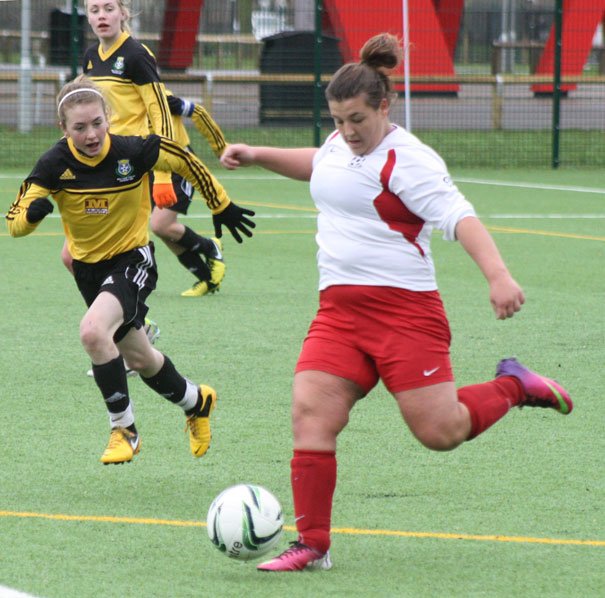 When AFC Preston, the away team in this fixture, took to the pitch, they showed no signs of being intimidated by Mill Lane United who had only recently comprehensively beaten them in the East Riding Girls Football League.
From the outset, the visitors played like bookies underdogs in a cup final that they felt they could win. The visitor's game plan appeared to be to sit deep, close down every loose ball, and look for opportunities to break.
The challenges were full blooded and the Mill Lane players, who throughout the match had the bulk of the possession, were put under pressure whenever they had the ball.
Mill Lane United had a good early opportunity when the referee awarded a free kick right on the edge of the box, after Courtney Fee had broken free only to be brought down by a well-beaten Preston defender. Unfortunately, for Mill Lane the free kick went wide of the post and their search for an opening goal remained fruitless.
United's opener eventually came when Fee got in behind the Preston defence, picked out Keely Forward, who was unchallenged on the back post and passed the ball into the net. Forward's second came when the Preston keeper became stranded after sprinting off her line to close down the attack.
Although Mill Lane had dominated possession in the first half. they had not really stamped their authority. Preston were still in the game, and they were very positive in possession, rapidly sweeping forward whenever the opportunity arose. But the visitors never really looked like scoring thanks to a solid performance by the Mill Lane defence in general, and by Emma Wray, in particular, who hardly put a foot wrong.
Mill Lane started the second half brightly, and were rewarded immediately when, a Courtney Fee cross found Millie O'Neill unmarked at the far post to score with a precision header.
By now, the United midfield, including their player of the match Jodie Brown, had taken control of the game, which was being played almost entirely in the visitors half of the pitch, and a fourth goal looked inevitable.
It came when Emma Smith carved her way forward, skipping numerous defensive challenges, and unselfishly passed the ball to Forward for her to take her third goal of the match. Smith got her well deserved goal soon afterwards when she and Millie O'Neill cut through the Preston defence with clinical one-touch passing.
Courtney Osler, who was outstanding in the latter stages of the game, rounded off the scoring with a thunderbolt from the corner of the box that left the Preston keeper with no chance.
Credit is due to the Preston players who had worked especially hard throughout the first forty minutes, closing down every loose ball and generally playing a physical game, but ultimately this played into Mill Lane's hands when the visitors ran out of both energy and ideas.
Final Score: Mill Lane United 6 AFC Preston 0