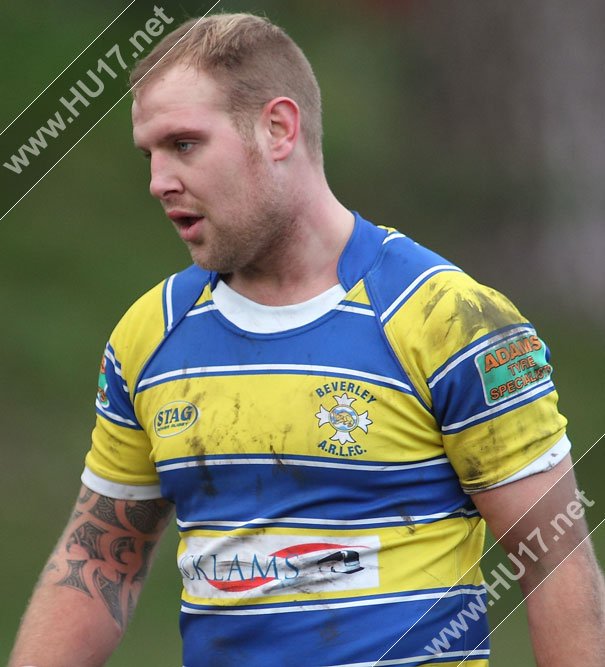 What a heartbreaking defeat for the blue and golds on their travels last Saturday. Having twice clawed their way back into the lead at 18-16, the home side scored with only five minutes to go of a sea-saw battle.
This game marked the first playing appearance and return to his hometown club of Tom Radley. Radley has also joined the coaching staff following a successful career spanning seven seasons at National Conference outfit West Hull, which saw him go on BARLA tours to Australia. In the event, he contributed two tries in a man of the match performance, which proved not quite enough.
The home side had the better of the opening exchanges and were on the scoreboard with a try in the 15th minute. For the rest of the half the visitors had some good spells of pressure. Quick hand to the left saw Billy Riby go over but was pulled back for a forward pass and also Tom Radley was held up over the line but could not ground the ball.
The hosts extended their lead with a converted try three minutes before the break. However, the visitors hit back. An attempted kick down field by Bilton went straight into the hands of Tom Radley who raced away under the posts for Watkin to convert. This was just the tonic the visitors needed as the whistle blew for half time.
The home side put Beverley under pressure early in the second half but a timely ball steal by Steve Connolly relieved pressure. The ball was then shipped quickly to the left and saw Mike Cooper race away from deep inside his own half. Cooper drew his man neatly and sent Ian Lane under the posts for Watkin to add the extras. This, however, failed to settle the visitors down and Bilton again regained the lead with a converted try. At times Beverley had to work wonders in defence in the second half. One spell of pressure by Bilton saw them force two successive line drop-outs with young full back Billy Riby showing calmness under pressure.
After spell of quality possession and territory, the saw visitors regained the lead. A short sharp pass sent Louis Hubbard away only to see him pulled up inches short. Tom Radley quickly waded in at dummy half to score an opportunist try. Watkin again tacking on the conversion for an 18-16 lead.
Bilton piled yet more pressure and repeat sets on the visitors, and they finally cracked five minutes from time. Beverley did manage to get up-field for one final assault. The ball was thrown around in desperation, but they just could not force their way over.
This Saturday Beverley are at home to Haworth Park. It is the third meeting between the sides at the Beverley Leisure Centre. It stands at one victory apiece with Haworth knocking Beverley out of the Yorkshire Cup and Beverley knocking Haworth out of the Tom Beautiman Cup. Kick off is 2pm.
Final Score : Bilton Sullys 22 Beverley ARKC 18 | Reported by Nick Robinson