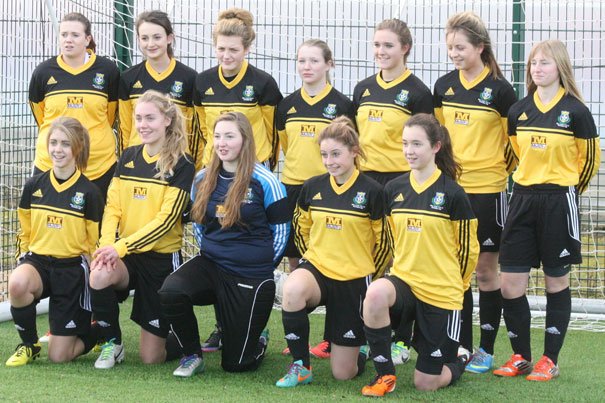 The rain was falling as the Preston and Mill Lane girls took to the pitch for their first match of the year in the East Riding Girls Football League. The going was heavy, and both teams were labouring in their efforts to play any creative football.
Mill Lane United were positive in the opening moments and made some good forward forays, but they lacked their normal sharpness and were easily thwarted by the Preston defence. Mill Lane lined up with a number of players out of their normal positions, which may explain the apparent lack of understanding and cutting edge, but despite this, they were in control. They were able to turn their possession into a lead when the captain, Courtney Fee, released a near-perfect pass to Millie O'Neill, who was quick to react and opened the scoring with a shot that gave the Preston keeper no chance.
United continued to dominate the slugging match that was the first half and eventually were rewarded with a five goal to nil lead. Despite failing to score, Preston showed a lot of courage throughout and made scoring opportunities that they were unable to capitalise upon. The general organisation of the Mill Lane defence, and on one occasion, the finger-tips of Emily Hood the goalkeeper, ensured that Mill Lane kept their clean sheet throughout the half.
The second half was much more of a spectacle. Mill Lane, who had continued with their changed line-up, were unrecognisable from the first half team and killed the game off with three goals in the first five minutes of the half. Mill Lane were now playing clinical pass and move football, with Courtney Fee, Emma Smith and Keely Forward combining particularly well to pull the opposition into disarray. Preston never gave in, and showed a good team spirit throughout, but in this half, they were overran by a Mill Lane side that was playing with all the purpose that they had lacked in the first half.
When Preston did get forward they came up against a stern test in the form of the Mill Lane defenders. In particular, Emma Wray, and Mill Lane player of the match Chloe Johnstone, showed great composure in reading every Preston attacking move and cancelling out the threat with impeccably timed interceptions.
Eventually Mill Lane took twelve goals without reply.