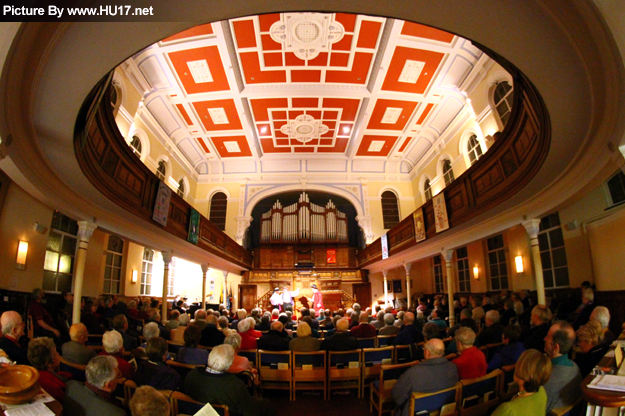 On Saturday 18 January 2014 at 7.30pm 'The London Theatre Voices' will go back to Toll Gavel United Church, Beverley to sing a concert of Gilbert and Sullivan music. The group have now been visiting Beverley for eight years performing Gilbert and Sullivan evenings, music theatre evenings, Christmas music and opera nights.
The initial half this year will be a 'pocket' version of one the most famous Gilbert and Sullivan operas 'The Mikado' . All the characters from the opera will be present, Yum Yum, Nanki Poo, Ko Ko, Katisha, as well as the Mikado himself.
The next half will be a combination of songs, duets, and quartets from a lot of Gilbert and Sullivan's other operas, including The Pirates of Penzance, Patience, Trial by Jury and The Yeoman of the Guard.
The London Theatre Voices are a vocal quartet of professional singers who together have large and varied careers as singers nationwide. Soprano Julie Dawn LLoyd lives near Bournemouth; Deborah Davison, the mezzo soprano, lives in St. Albans and is a member of the English National Opera Chorus. Ben Kerslake is the tenor and has recently moved from Leeds to Bishop Stortford. Pianist Simon Haynes lives in Luton and divides his time playing and singing tenor.
Since 1991 Andrew Tinkler, the bass, has been a part of English National Opera, where he has sung many roles along with his duties in the chorus. Andrew has featured on recordings, television and radio broadcasts and has also sung with The Academy of Ancient Music, The Richard Hickox Singers, The English Concert and The Ambrosian Opera Chorus. A few years ago he sang at the Globe in a production of the Tempest along with the 'Charmin toilet roll' commercial, plus the sound track to all the 'Pirates of the Caribbean' films.
Tickets are available from Beverley Tourist Information Centre (01482) 391672