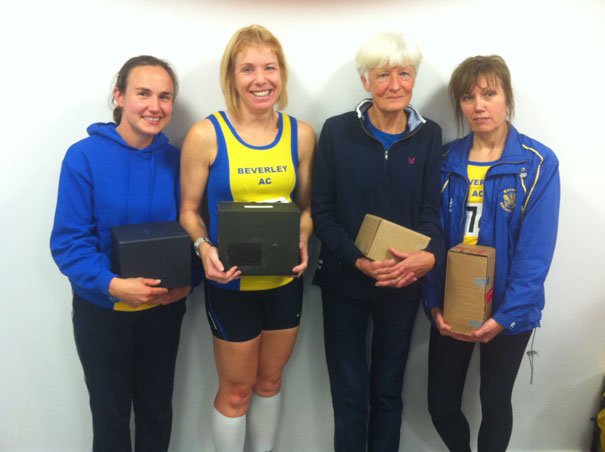 With the clocks going back last weekend, runners tackling the 27th Haltemprice 10k on Sunday had an extra hour in bed to rest in preparation for their efforts. Eighteen Beverley AC members joined a total of 284 athletes at Haltemprice Sports Centre, Anlaby, to run the 6.2 mile course on a very windy but warm day. Haltemprice is not an easy course, with the first 4 miles being uphill and into the wind. The reward is that the last two miles are downhill.
Beverley's female runners demonstrated their strength again in this race with some impressive running, winning crystal vases and bowls. Laura Egan was the first of Beverley's women to cross the line and take 3rd place in the women's race in 42:51. Samantha Allen was second in the FV40 age group, in 47:05, while Jayne Dale (FV50) and Pam Atkins (FV65) won their respective age groups in 47:28 and 57:58.
In the men's race, Andy Johnson, who despite recent injury, took 2nd place in the V45 group in 40:43. He narrowly held off Philip Reese, who finished two seconds later in 40:45. The pair were 20th and 21st overall. Peter Watkinson was first in the V60 age group, crossing the line in 43:58.
The winner of the men's race was James Pearson, who finished in 35:40. Now running for City of Hull AC, Pearson was until recently a Beverley AC member. The winner of the women's race was Beverley Jackson (East Hull Harriers), crossing the line in 41:30.
Beverley AC times: Andy Johnson 40:43; Philip Reese 40:45; Laura Egan 42:51; Andy Arnold 43:06; Peter Watkinson 43:58; James Durham 44:55; Samantha Allen 47:05; Jayne Dale 47:28; Andy Tate 47:29; Paul Evans 49:07; Andrew Wheeldon 52:23; Elaine Julian 54:51; Pam Atkins 57:58; Lynne Stabler 60:48; Jacqui Dickinson 60:53; Penny Booth 63:31; Catriona Williamson 64:41; Jayne Storey 70:37