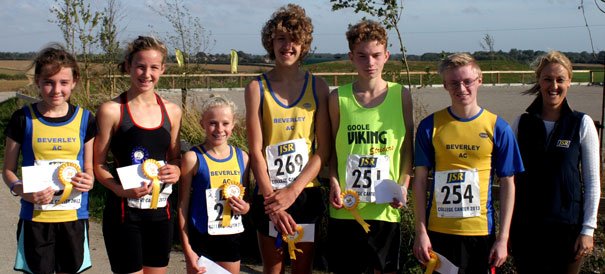 Sunday saw Beverley AC roll out their new annual event, The College Canter, sponsored by JSR farms Ltd. This is hosted by Bishop Burton College on their Equine hacking track.
Runners get the choice of 3 or 7 miles over some challenging terrain. Glorious sunshine and a flying start with a tail wind and a downhill section in the first half mile, lulled runners into a false sense of security as first some steep slopes, then strong head winds on the downhill sections and long grass in parts, gave little respite. This was an ideal course for lovers of cross country and a great introduction to this version of running for newcomers.
Race organiser, Andy Tait, welcomed the field to the inaugural 7 mile College Canter with the comment that, in subsequent years, as the race takes off "You can say you were there at the first". The Club is looking to make this event grow to the level of success that has made the Beverley 10k and the Walkington 10k, stand out events for runners all over the East Riding, greater Yorkshire area and beyond, so look out for this event next year and give yourself a new challenge if you fancy a change to concrete and tarmac.
The 3 mile race saw Beverley AC juniors again put in a great showing. Harry Powell won the event in a time of 17:45 and 1st female was Becky Briggs in 20:33. The other junior's times (see below) added to an impressive effort.
The 7 mile event was won by former Beverley AC runner, James Pearson, now with City of Hull in 43:14. First Beverley runner and winner of the M40 category was Lewis Holloway in 46:33. First female and winner of the F40 category was Claire Traynor in 53:23 with Beverley ladies taking the top 3 in the women's group with Emma Greensmith (54:10) and Samantha Allen (55:30) completing the trio. Alan Flint put in a great time of 53:04 to take the M60 award. Mariana Barbera underlined her continuing improvement, taking the F40 prize in 57:03
Other Beverley AC  7 mile finishers were: Ethan Dalton 48:24, Matthew Ingman 48:50, Mark Dalton 49:00, Jordan Arnott 49:06, Philip Reese 50:12, Paul Clark 50:56, Dave Milson 52:09, Mike Evans 52:51, Curtis Arnott 53:10, Pete Watkinson 53:30, Graeme Pittaway, 54:30, Martin Hall 54:49, Kelvin Arnott 55:27, Bill Grieve 58:09, Dan Hammond 59:17, Tom Baxter 60:45, Gary Balchin 61:51, Andy Grainger 63:05, Neil Sergeant 63:46, Nicole Dawson 63:46, Colin Taylor 64:53, Pam Atkins 70:03.
Beverley AC Juniors 3 mile race times: Conor Spilsbury 19:23, Taylor Arnott 20:31, Jonathan Dennison 21:10, Oliver Douglas 21:57, Edward Prew 22:01, Laura Duncan 22:38, Elizabeth Evans 23:41, Aidan Glover 24:11, Isabelle Horrocks 24:24, Eleanor Boyd 25:16, Dayna Arnott 25:27, Christopher Jeffs 25:51, Guy Harbidge 26:02, Jim Harbidge 26:03, Chloe Broadbent 26:18, Francesca Brittain 29:01, Emily Peacock 30:24, and though too young to join the juniors: Erin Glover 28:28