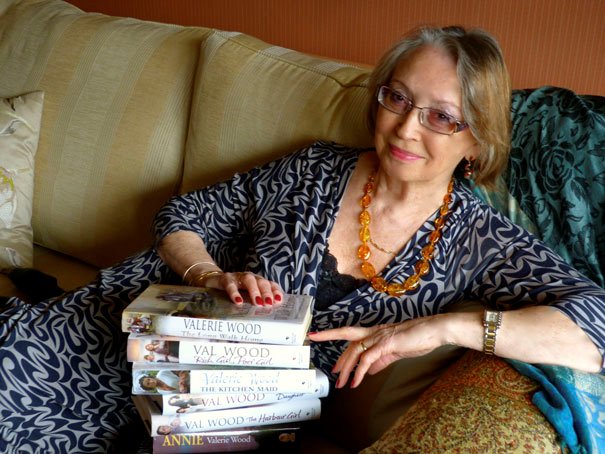 Award winning author, Val Wood is this year celebrating the 20th Anniversary of her debut novel, The Hungry Tide. The book won the Catherine Cookson Prize for Fiction in 1993 and launched her exciting career as a novelist.
To mark the occasion, Val invites budding writers in East Yorkshire to enter the Val Wood Prize for Creative Writing, in conjunction with East Riding Libraries and Quickline Communications.
The winning entries will be announced at a special ceremony at Beverley Literature Festival in October and the winners will be invited to read their stories to the Festival audience in Val's presence.
Val says:
"My career took off after winning the Catherine Cookson prize and continues to flourish with a new novel being published by Transworld annually. Wining the prize opened so many doors for me and I hope to encourage fellow writers with my own competition.
"The prize is being donated by Quickline Communications, a Hessle based wireless internet service provider. They have been kind enough to support this competition and I am very grateful to Quickline for recognising the value of being a part of an arts project."
"We need more successful businesses to support key events in our region."
Gaynor Osborne-Lawn, Director of Quickline says:
"I have read all of Val's books, I get the latest hard-back every year at Christmas which has become a tradition in my family. So when I heard about the Val Wood Prize for Creative Writing, I jumped at the opportunity to be involved."
"In addition to this though, as a wireless internet service provider we specialise in providing high-speed broadband particularly in rural areas and we share Val's passion to support rural and mobile libraries to make sure these remote parts continue to receive a library service."
"Val will be hosting a series of library workshops in September where new writers can meet the author face-to-face, to share her writer's journey, receive helpful writing tips and inspiration to create an award-winning entry."
The workshops will be held on the following dates, please contact the libraries direct to reserve a place:
Tuesday 3rd September – Beverley Library at 5 pm (01482) 392750
Wednesday 4th September – Hedon Library at 5pm (01482) 897651
Thursday 5th September – Hornsea Library at 2 pm (01964) 532561
Friday 6th September – Bridlington Library at 2pm (01262) 671468
East Riding Libraries and Wordquake, East Riding Libraries' unique reader development project which organises Beverley Literature Festival, is delighted to be involved in the Prize. Dorcas Taylor, Director of Wordquake said:
"This is a fantastic opportunity for anyone living in the East Riding who enjoys writing to share their ideas with Val and learn from her tremendous experience."
"Val is a regular visitor to our libraries – using our resources to research her books, taking part in library events – and she's one of our most borrowed authors. It's great to be joining forces with her to support the Prize."
The Competition
The competition is open to anyone living in the East Riding and over 18 years of age. Entries should be in the form of a short story and begin as a continuation of the following paragraph written by Val Wood.
"Nothing was as it appeared to be, not the road that led to the house, not the house itself or the garden and certainly not the occupants of the house who were waiting on the steps by the front door. This was not a good beginning."
The winner of the competition will receive £100 and their entry will be published the website www.valeriewood.co.uk.
The runner up will receive £50 and there will also be two commendations of £25. Cash prizes are kindly donated by Quickline Communications.
Conditions of Entry
1. All entries must be typed in double spacing or neatly handwritten and be no less than 500 words with a maximum word-count of 1000.
2. Entries should be submitted on or before Friday 20thSeptember 2013.
3. Your name, address, telephone number and/or email address must be included with your entry on a separate piece of paper.
4. Entries can be sent to lama.admin@eastriding.gov.uk with the subject Val Wood Prize for Creative Writing. Postal entries can be sent to: Val Wood Prize for Creative Writing, Libraries and Information Services, Council Offices, Main Road, Skirlaugh HU11 5HN
5. Entries from already published writers will not be accepted.
6. Entries must be the original work of the competitor, in English, and must not have been published, broadcast or have won a competition prize.
7. All entrants must be residents of the East Riding of Yorkshire.
8. No alterations can be made to a story once it has been submitted.
9. If sending your entry by post, please check that you have used the correct postage.
10. Entries cannot be returned – so please keep a copy.
11. Entrants can win only one prize. The decision of the judge is final and no correspondence will be entered into.
12. Prize winners will be notified by Friday 4 October 2013. Copyright remains with the author, but the organisers reserve the right to publish the winning entries online or in print for one year after 13 October 2013.
13. The organisers reserve right to alter details of the competition if necessary.