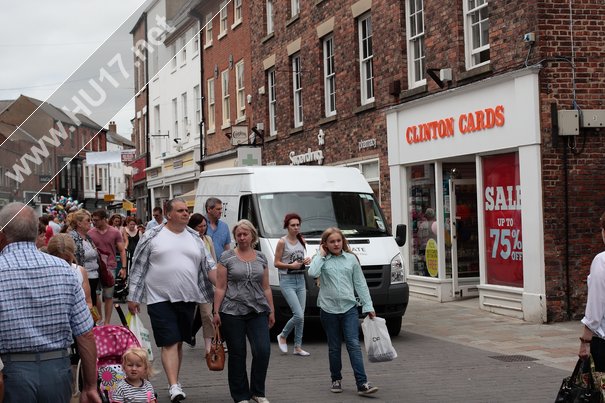 It is not often I have a rant but this is something that I feel quite strongly about.
Beverley is a busy place on a Saturday afternoon, the Market pulls people in from all over the place and hardly any cars in the town centre.
With this in mind shoppers tend to walk about more relaxed, children and dogs take their time to amble along looking in the shop windows not paying any attention or worrying about being knocked over by a car.
So when I saw this van I just had to take a photo. I could not believe what I saw at 1pm on busy Saturday afternoon this van drove through Toll Gavel to make a delivery to Clinton Cards.
I am no legal expert but I am sure the signs make it perfectly clear such activities are not permitted till after 3pm. Yes the driver has job to do but actions like this put many people at risk.
He could have parked the van and put the boxes on the sack truck and walked them the 40 yards to the shop to complete the delivery instead of driving down a very busy pedestrian area.
The traffic wardens in Beverley are very quick to slap tickets on people who over stay their welcome but on Saturday, and this is not the first time I have seen this, they are nowhere to be seen to deal with drivers who do such things.
It only takes a split second for a child to lose their parent and run into the path of vehicle, with some many people on Toll Gavel seeing a small child would be very difficult.
I do not know what can be done by I think the council really need to look at putting some kind of pop up bollards or at least have someone in place through the day to monitor the traffic before someone gets hurt.