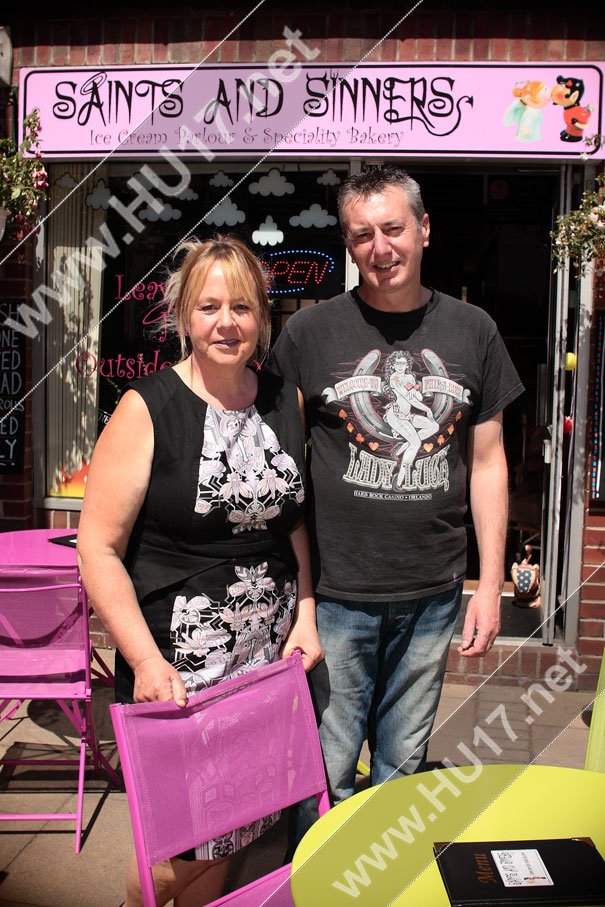 A business that began life as a hobby on a market stall in Market Weighton has branched out and opened a shop in Beverley.
Located in Swaby's Yard, Saints and Sinners is the brainchild of husband and wife team Darren and Dawn Roe and offers a tempting array of home baked bread, cakes, fresh cut sandwiches and Yorvale ice cream.
Commenting on the move, Dawn Roe said; "We're passionate about food and speciality baking and ran the Saints and Sinners market stall as a hobby whilst we both had other jobs. Unfortunately we had to give up the stall due to pressures of work, but we both really missed it, so when the shop in Swaby's Yard became available, we decided to go for it.
She continued; We set out to offer Beverley's residents and visitors an extensive range of home-made speciality bread and cakes, deli-inspired sandwiches and locally sourced products like Yorvale ice cream and Yoryog frozen yogurt. We're really pleased with how it's going so far and have been encouraged by the support that we have had."
Among the many freshly baked breads on offer is rosemary, garlic and tomato focaccia, rustic Branston Pickle and mature cheddar loaf, Beetroot and Horseradish bread, Olive Fougasse, Wholemeal, Rye and soft white rolls.
Saints and Sinners is open from 8am until 5.00pm Monday to Saturday and from 11am to 3.30pm on Sunday.
In addition to Saints and Sinners and mobile units around York, Yorvale ice cream is available nationwide via selected wholesalers and from farm shops, independent retailers, Waitrose, Booths, Asda, Tesco and Morrisons throughout Yorkshire.