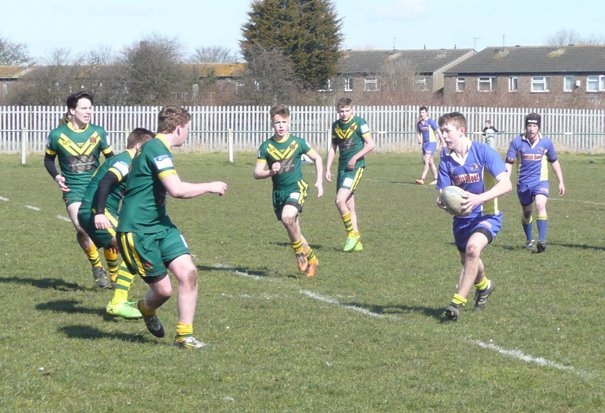 This was a friendly fixture on paper but on the pitch it was a different story. Both sides were without key players and the players remaining had to play in different positions to what they are accustomed to.
Within the first few seconds though prop Callum Officer floored the West Hull player running towards him with such ferocity and it was game on. Darren Benstead continued the aggression with solid runs breaking the line every time.
Nathan Collinson distributed the ball around well but it was West Hull who scored the first points of the morning after a period of pressure and decisions going against Beverley.
The Braves picked themselves up and a great kick from Keegan Bartlett switched the pressure back onto the home side and Harry Inman was so unlucky not to score. A West Hull player broke free and a great chase and tackle from James Sherwin saved a certain try. Harry Bulleyment was a formidable target as ever for the ball as he runs at the advancing line and powers through and Beverley were now attacking well.
Will Johnson made a superb run with the ball breaking through the defence and offloaded a fantastic pass to a supporting Inman who accelerated with such speed that the chasing West Hull players could not catch him and he placed the ball under the posts for an excellent try. Owen Harrison secured the two points with ease.
Despite the away side growing in confidence West's hit back with two tries in quick succession before half time to make the score 16 – 6.
Beverley came out in the second half still determined and kept play in the home sides half. Keenan Barker ran well with the ball and made valuable yards and the resulting kick from Bartlett was knocked on by West's. Harry Bell although small in statue compared to many on the pitch tackled hard and forced a knock on.
The Braves needed to capitalise on their possession and despite great passing from Jay Black Beverley could not score the try they needed to get them back into the game. When West Hull attacked Beverley defence held tight with Dylan Clifford working so hard as ever and great tackling from Connor Davies and Black who even forced errors with the ferocity. Johnson continued to look a threat every time he made a run and Harrison's kicking game opened up many gaps in West Hull tight defence.
The determination exhibited was to be applauded and all players should be proud. It was tired legs at the end though that allowed West Hull to run in two tries to make the score 26 – 6.
Man of the match was Darren Benstead who had a stunning game both in attack and defence and showed determination throughout the whole match.
Final Score : West Hull 26 Beverley Braves 6 | Reported by Sue Wardill