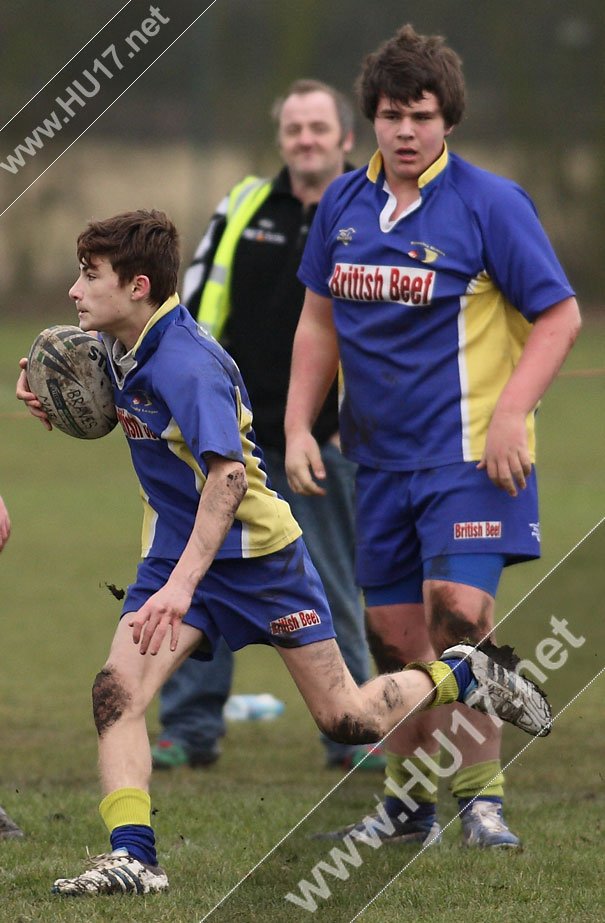 Beverley continued the season with some more quality rugby as soon as the whistle blew to start the game.
Their physical intensity overwhelms the opposition and despite some excellent defensive tackling from Wyke, Beverley opened the scoring with a powerful charge from Owen Harrison into the corner.
More dynamic runs followed to pin the visiting side in their own half with Darren Benstead leading the way with explosive runs gaining valuable yards. It was not long before another powerhouse Harry Bulleyment crashed over the line with an unstoppable try with Harrison converting easily.
The game was great to watch with half backs James McGahey and Keegan Bartlett running the show with clinical passes. Benstead's great support play was rewarded as he crashed over the line, Harrison adding the two points. McGahey was instrumental again as he released Joe Wardill at speed who broke the tackle and dived over the white wash.
Harrison kicked well for the extra two and shortly after Wardill added another try under the sticks which was converted as well. Beverley exhibited great aggression but maintained their discipline at all times.
Harry Inman was impressive again in attack and defence and has slotted so well into this flourishing team. Harrison added another great try of his own as he bull dozed his way over from close range and secured two points with some great kicking. Another great move followed as from the play of the ball McGahey dummied and let it run to Wardill who ran at speed to score despite Wyke hanging onto his shirt. Harrison completed the half with a great kick making the score an impressive 40 – 0.
Beverley did not ease off the throttle as the second half commenced and it was not long before Keenan Barker scored against his old team with such power and determination. The Braves defence was called upon as Wyke never stopped trying and Harry Bell's enthusiasm and commitment is to be applauded.
Connor Davies and Callum Officer were as aggressive in their defence as ever and did not give Wyke a chance to move forward. As Beverley continued to pile on the pressure McGahey kicked the ball to the corner forcing Wyke to flick the it out. The resulting drop out was cleanly taken by Wardill who accelerated through the defensive wall and scored a great try.
The resulting kick by Harrison brought the point tally to fifty but the Braves continued to battle. Jay Black had an excellent game and showed determination throughout and another try was well worked as Harrison released winger Connor Egan out wide who used his strength to dive over the line. Harrison scored two points with a difficult kick cleanly taken.
James Sherwin had some excellent runs and was unlucky not to break away with a determined Wyke defender hanging on to halt his progress. A stunning game was rounded off with an excellent try from Nathan Collinson who deserved his reward after a quality game. Final score 60 – 0. Man of the Match was Harry Bell who really earned the trophy with a fantastic display.
Final Score: Beverley Braves 60 Hull Wyke 0 | Reported by Sue Wardill