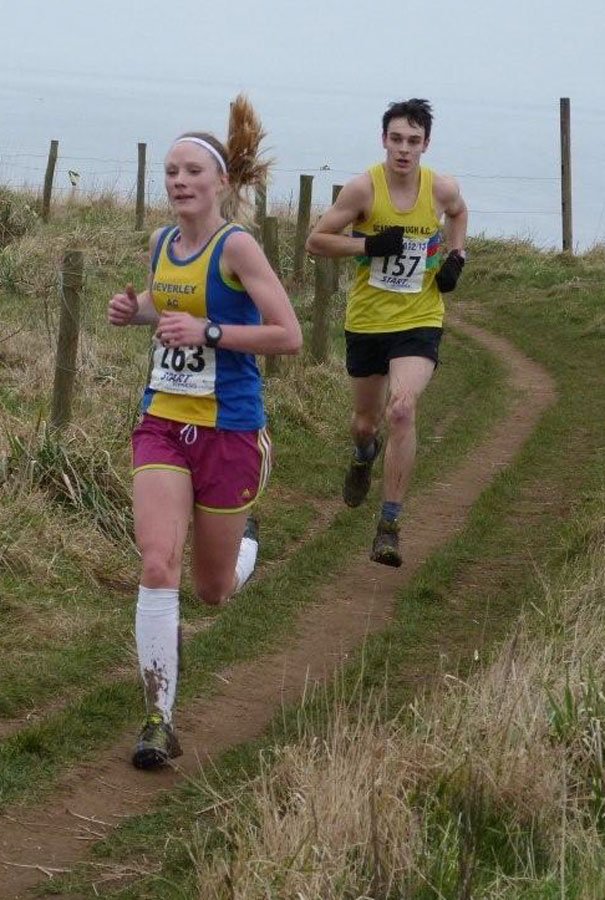 Conditions were perfect for running last Sunday when the final race of the 2012 / 2013 East Yorkshire Cross-Country League took place at Sewerby. It was firm underfoot with a few muddy sections and unusually for Sewerby there was no wind.
101 athletes from eight local running clubs set off from the cliff top behind the Ship Inn and followed the testing course through Danes' Dyke, round field edges and through woods at Flamborough and then back to Sewerby along the cliff top path. The first of them to cross the finishing line was Jack Robertson of Scarborough AC in 31:31.
Four athletes from Beverley Athletic Club finished in the top 20, including Carla Stansfield who was the first lady to complete the course. Stansfield finished in 19th place overall in an excellent time of 35:58. Laura Egan (6th lady) and Sam Allen (9th lady) were the other two counters for Beverley's ladies' team which finished in second place, only one point behind Bridlington.
Aubrey Morrell was the first Beverley runner to finish the race. He was fourth overall in 33:06, his highest placing in the league this season. Morrell was followed by Luke Davison, Mark Dalton, Jim McGivern, Paul Clarke and David Millson who all scored points for Beverley. They finished in third place overall.
With the final race over everybody gathered in the Ship Inn for chip butties while the results for the season were computed. As expected, City of Hull came first in the men's competition. Their strong team finished first in every race this season. Beverley were runners-up having finished second in four races and third in two races. Beverley were also runners-up in the ladies' team competition which was won by Bridlington.
Individual prizes were awarded to runners based on their best five performances from the six races. Jack Robertson of Scarborough won the men's individual trophy having finished first in three races and second in the other two he completed this season. Cathy Wood of Bridlington won the ladies' individual title after finishing in the top three in all five races she took part in.
Beverley runners took home a number of individual prizes. Laura Egan, still in her first year with the club, completed 5 races in the league and won third prize in the ladies' competition. For the second year in succession Sam Allen, Jayne Dale and Pam Atkins all won first prize in their respective age categories – F40, F50 and F65. Pete Watkinson won the V60 prize and for the second consecutive year Alan Flint was runner-up in this category. Jim McGivern won second prize in the V45 age group.
Beverley runners who did not receive an individual prize can be congratulated on the role they played in securing second place in the team competitions. Although only the first six men and the first three women for each club score points in each race, the rest of the Beverley squad make a valuable contribution to the team position by packing out the field and pushing other teams down the finishing order.
New members are encouraged to take part in the league and in their first season with Beverley AC Laura Egan, Emma Greensmith, Lewis Holloway, Mark Roper, Darren Edge and Luke Davison all scored points for their club. New member David Cammies completed all six races along with a small number of club stalwarts – Pam Atkins, Pete Watkinson, Steve Willietts, Steve Hadley and Christine Hemingway.
With the cross-country season over until the autumn runners at Beverley AC have lots of other events to look forward to – club handicap races, the Champagne League, the East Hull Summer League, Spring marathons and various club trips to races in other areas. Happy running to them all!
Beverley AC finishing times at Sewerby:
Aubrey Morrell 33:06; Luke Davison 35:38; Mark Dalton 35:49; Carla Stansfield 35:58; Jim McGivern 37:15; Paul Clarke 38:26; David Millson 38:41; Andy Tate 39:40; Pete Watkinson 40:30; Laura Egan 40:38; Steve Willietts 40:40; Sam Allen 41:39; Emma Greensmith 42:55; Alan Flint 43:06; Jayne Dale 43:26; David Cammies 46:04; Carrie Smith 48:05; Trevor Turnbull 49:01; Pete Myers 49:04; Steve Hadley 52:44; Christine Hemingway 53:40; Pam Atkins 56:02.
Reported by Kay Farrow | Photos by Mike Atkins