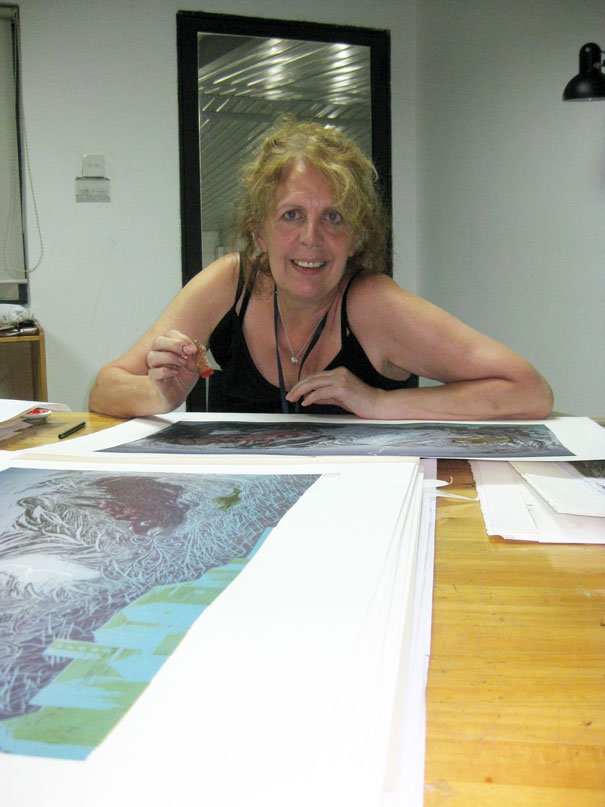 Creation Fine Arts in Beverley is hosting a free event this month, an Evening with Printmaker, Frances Kelly. The artist will give an illustrated talk and answer questions on her time and work in Guanlan.
Photographing toads, clearing cockroaches and eating mushrooms that turn out to be seaweed are all part of being a print maker in China.
Frances Kelly, an artist from the East Riding, was a resident printmaker last summer at a famous print making facility with some of the best Chinese, as well as German, Australian and American, artists.
Frances says
"The technicians in China are masters of their trade. They are printing 'editions' of maybe a hundred with 30 colour changes on each. Each time they are matching by eye, and printing by hand."
The printmaking facility was opened in 2008 as a centre of excellence in China and is popular with tourists and sightseers who can watch the artists and technicians at work in the main production area.
Kelly's work will also be on display at the gallery. The event takes place on 28th February and is free of charge but seating is limited and therefore booking is essential. Please call at the gallery or phone 01482 868884 to book a place.
The photograph shows Frances stamping the seal on her work to show authenticity.