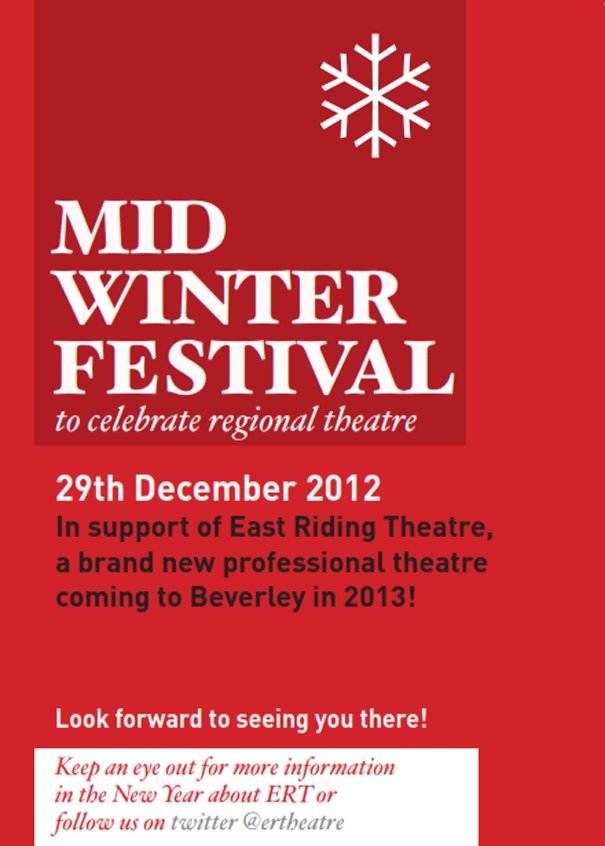 A Mid-Winter Festival, celebrating theatre and music, will take place in support of Beverley's new East Riding Theatre – set to launch in 2013.
The festival on Saturday 29th December promises a fantastic programme of events throughout the afternoon and evening.
• Other Lives Productions presents 'Christmas at Arles' at 4pm at Creation Fine Arts Gallery. Tickets £10.
• Musical Theatre – 'An Afternoon at the Musicals' at Beverley Arms Hotel (bar area), 2.30pm-5pm. Free entry.
• Sticky Bun Productions presents 'Educating Rita' at 7.30pm at The Westwood Room, Beverley Arms Hotel. Tickets £10.
• Farino and Friends (special guest – Edwina Hayes) – Acoustic Evening from 9pm at The Beverley Arms (bar area). Free entry.
Sue Kirkman, Director and project manager of the East Riding Theatre, who has organised the fund raising festival, said:
"Since official approval of the lease was granted in July, we have been working extremely hard in preparation for taking over the old chapel building on Lord Roberts Road. We are now in a position to begin to raise the profile of ert and some much needed funds to secure its success."
"Although the building is not yet suitable for performances, we are grateful to the Beverley Arms Hotel and Creation Fine Arts gallery for providing us with venues. We thank professional, local and London-based performers, for the diverse programme consisting of two excellent plays and a wide variety of exciting music. Due to such generosity, all proceeds will go towards the new theatre."
Tickets for 'Christmas at Arles' are available from Nigel Walker at the Art Gallery, 07534 981220 or nigel@creativecommissioning.co.uk
Tickets for 'Educating Rita' are available from Sue Kirkman, 07775 664570 or sues@kirkman.karoo.co.uk