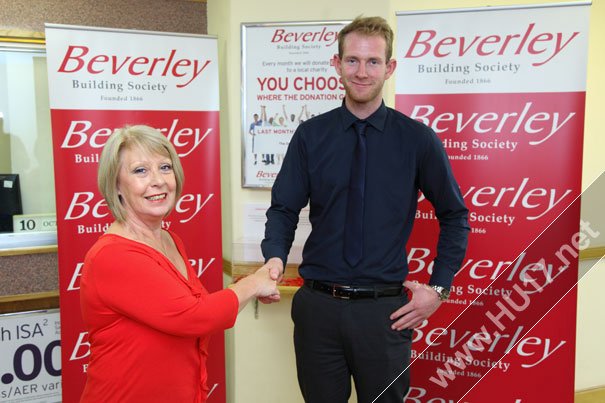 September has been a busy one at the Beverley Building Society and the Charity of the Month competition has received the highest number of votes since the initiative began in January. In the closely contested month, the Dove House – Love You 2 Appeal just edged ahead to win the £250 donation.
The Dove House Love You 2 Appeal is a fundraising campaign to support the completion of a major re-development at the Chamberlain Road Hospice in Hull. The Love You 2 Appeal has been set up as a separate campaign specifically for the re-development and relies mainly on the charitable donations of the community. Re-development will dramatically enhance the features at the Hospice adding twelve new respite beds, gym rehabilitation facilities and an improved day therapy unit.
The Beverley Building Society's charity of the month competition is a great way of giving something back to the community that the Society has been part of for the past 146 years. Michael Plaster, Marketing Manager at the Beverley Building Society said: "Working with our members to help local causes is what we're all about at the Beverley and the Charity of the Month campaign has allowed us to do this."
Every month members at the Society vote for one of three local charities each time they visit the branch and the winner is awarded a £250 from the building society.
The three charities involved in October's competition are: Canine Partners, Beverley Chamber Choir and Dolly Parton's Imagination Library.
If anyone would like to nominate a local registered charity to be included in the Beverley's monthly voting process, they can email michael.plaster@beverleybs.co.uk, telephone 01482 881510 or call in and speak to one of the team.
PICTURE: Pauline Speed, Dove House and Michael Plaster from Beverley Building Society