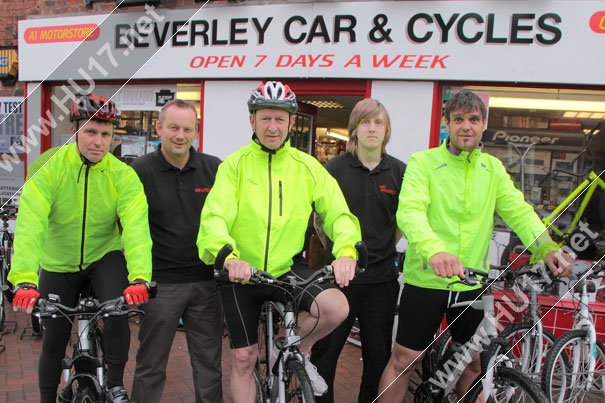 Rotarians Peter Delaney and Mark McMullen with friend James Lunn are preparing for the ride of their lives.
On Monday, 22nd October they travel to Morecambe to start their coast to coast bike ride travelling through Grassington, Patley Bridge, Pocklington and finally arriving in Bridlington on Wednesday 24th. After a quick dip in the sea it's a fast ride back to Beverley in time for tea.
The ride is in aid of Beverley Community Lift a volunteer organization which for 40 years has been providing free transport to all sections of the community to help improve their quality of life and maintain their independence. They rely totally on volunteers and donations.
Beverley Car & Cycles on Norwood are fully behind the event providing assistance with all spares, first aid kit and free servicing.
The ride is in the spirit of Beverley Rotary Club's association with cycling as for many years a family cycle ride was the club's main event raising thousands of pounds each for local charities.
Neighbouring Rotary Clubs in Driffield, Market Weighton and Pocklington who are also served by Beverley Community Lift will be turning out to cheer them on and provide support as they pass by as will other clubs and friends along the way.
Anyone wishing to sponsor the team can do so by going to their donations website where they can take advantage of Gift Aid to increase donations by 25p for every pound given: