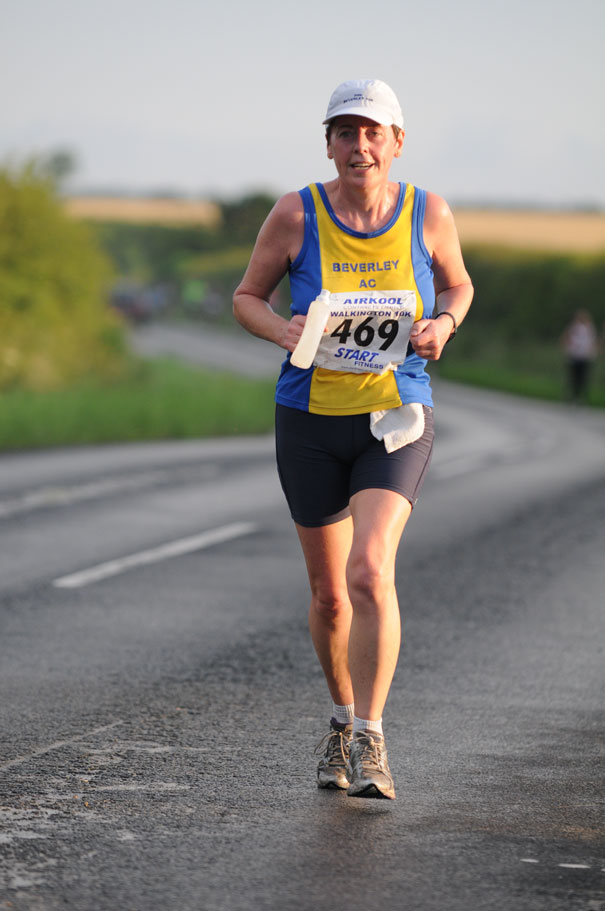 The Airkool Walkington 10k took place last Friday despite problems caused by the recent wet weather.
Race organisers, Beverley Athletic Club, had to switch car parking from the waterlogged playing fields in Walkington to the surrounding streets and remove the off-road section from the fun run as conditions underfoot were difficult. The rain stopped before the races started and a fine, dry and still evening emerged to provide perfect conditions for running.
Steve Bateson of East Hull Harriers won the 10k race for the first time, crossing the line in an excellent time of 32:42 and finishing almost a minute ahead of second placed Phill Taylor of Bridlington Road Runners.
Bateson led from the start and was determined to stay ahead on the challenging hilly course between Walkington and Little Weighton. He finished strongly despite the muddy conditions in the final 250 metres round the edge of Walkington playing fields.
East Hull Harriers fielded a strong squad of runners and with Steve Bateson in first place and Mathew Hayes and Michael Hargreaves in third and fifth place respectively the club won the men's team prize. Beverley AC's men were runners-up with Lewis Holloway, Steve Peacock and Mark Dawson forming the team.
In the ladies' competition Bridlington's Emma Brown won first prize, finishing in 40:50. She was followed by Jackie Lord and Cheryl Oakshott, both of City of Hull, in 41:07 and 41:55.
The ladies' team prize was won by City of Hull with tenth placed Katie Dunn making up the team with Jackie Lord and Cheryl Oakshott. Beverley AC ladies finished second with a team comprising Carla Stansfield, Julie Donald and Nicole Dawson.
In addition to the teams' success there were other notable performances by runners from host club Beverley AC: Lewis Holloway recorded a new course best of 37:32 and won first prize in the V40 category; the ever improving Mark Dawson recorded a new personal best of 38:26, finishing 1½ minutes faster than last year; and Richard Vidgen and Alan Flint won the V55 and V60 age groups.
Two Beverley ladies also came first in their age category. Junior, Nicole Dawson was the first U18 lady to finish and Pam Gale won the FV55 prize, finishing in a very impressive 46:09.
In her first race in the UK for two years, Beverley AC's Press Officer Kay Farrow was pleased to achieve her target of finishing in under an hour. Back in Beverley on holiday from her current home in Mauritius she said:
"It was brilliant to be back home and running in a club race. There aren't many road races in Mauritius so I'm not able to compete as much as I would like."
Steve Hadley, Tony Hunter and Lucas Meagor swapped their Beverley vests for Cystic Fibrosis t-shirts and ran the race backwards to raise money for the charity.
They had planned to run together guided by Alex Cleeland of East Hull Harriers but after two miles Hadley was 50 metres ahead of the others and after three miles Hunter dropped further behind after stopping to tie his laces. Steve Parkinson and Trevor Turnbull stepped in to guide Hadley and Meagor to the finish. All three runners struggled to keep their balance as they crossed the finishing line.
Although they recorded much slower times than usual they can congratulate themselves on being the fastest three runners to complete the Walkington 10k backwards!
Race sponsors Airkool Contracts Ltd were represented in the race by Company Secretary Wayne Dawson, who finished in a commendable 51:24, 28 seconds faster than the last time he ran the race in 2010. His brother Richard, a director of Airkool, was unable to compete this year due to injury but presented the prizes to the first three men and women to finish.
Seventy-five year-old Ivor Michaels completed his second race this year after an absence from running of 40 years. He proved that it's never too late to improve by finishing the challenging course at Walkington in 1:20:30, a minute faster than his time in the Beverley 10k in May. He would have been even faster had he not fallen in the finishing strait after slipping in the mud.
There were 544 finishers in the 10k and 126 in the fun run which was supported by KP.
Jessica Chapman of Hull Achilles won the fun run in 10:44 followed followed closely by her younger brother Luke in second place in 10:53. Lloyd Garland of York AC was third in 11:24. Three Beverley AC Juniors followed in quick succession – Taylor Arnott was fourth in 11:37, Edward Prew was fifth in 11:39 and Lauryn Garwood finished in sixth place in 11:40.
A full set of results for the 10k and fun run can be viewed at www.beverleyac.com and photographs taken by Alan Glover and Andy Grainger of Beverley AC are available to download free of charge from the gallery on the same website.
Photo Credits;
Aland Glover and Andy Grainger of Beverley AC and Phil Haskins of Your PB magazine
Beverley AC finishing times:
Fun Run
Taylor Arnott 11:37; Edward Prew 11:39; Lauryn Garwood 11:40; Dayna Arnott 12:16; Kelly Dawson 12:18; Eleanor Boyd 12:23; Morgan Dennis 12:26; Laura Duncan 12:30; Jordan Peacock 14:06; Francesca Brittain 14:48; Aidan Glover 14:56; Nicola Glover 16:22.