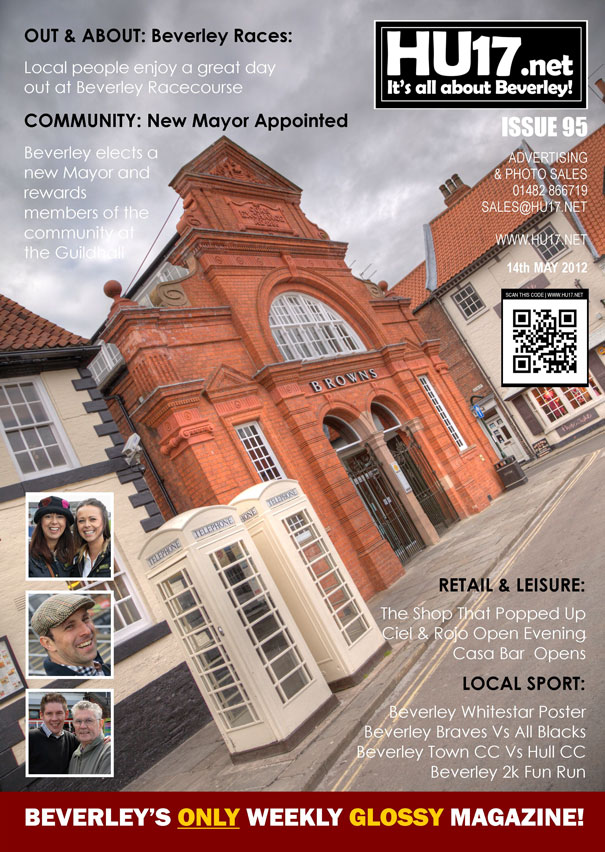 HU17.net Magazine Issue 95 is available from Molescroft News, Woodhall Way and features the following articles and pictures that have appeared on the HU17.net web site.
Sophie Appleton has recently introduced the 'pop-up shop' phenomena to Beverley. The retailing concept, which orginated
Beverley Town Council with the support of local businesses such as De Lacy Spa, hope to bring the local community together and encourage residents to celebrate the Queen's Diamond Jubilee by hosting a fun filled family
Beverley St Nicholas Women's Institute held a 40's evening on Monday 14th May at Molescroft Pavilion.Invited guests were from other nearby Women's Institute and entertainment was provided by the Shoreline Singers.
Punters once again enjoyed an afternoon meeting at Beverley Racecourse. There were many regulars in the crowd including
Pip Pearson
, local councillor Bryan Pearson former
Beverley United
boss Daniel Williams
5..4..3..2..1..We have lift off! The Friends of St Mary's have today launched Operation i-Pad, their most ambitious mission to date.
Pizza
Pan is a well-established, award winning fast food take away. It is situated in…
Beverley has a new mayor after Cllr Margaret Pinder was elect into office at the Beverley Guildhall. Former Mayor of Beverley Peter Astell complete his time in office by handing out a selection of community awards.
Michael Scattergood is happy to announce the official opening of Casa bar and kitchen in Beverley. The bar which is situated on Wednesday Market held an opening party on Thursday Night.
On Sunday a large number of people took part in the Beverley 2K fun run that was held at the Beverley Leisure Centre. The event
A batting master class by Mathew Mudd gave Beverley victory on Tuesday night in the Newland League at the Norwood Recreation Ground. Batting first the visitors, Hull CC set Beverley a target of 123 to win.
Beverley Braves under 10's got back to wining ways with a 34-18 victory over Hull All Blacks at the leisure centre. The Braves scored six tries and kicked five goals in an entertaining game with Luke Dobbie scoring a try and a goal on his debut.