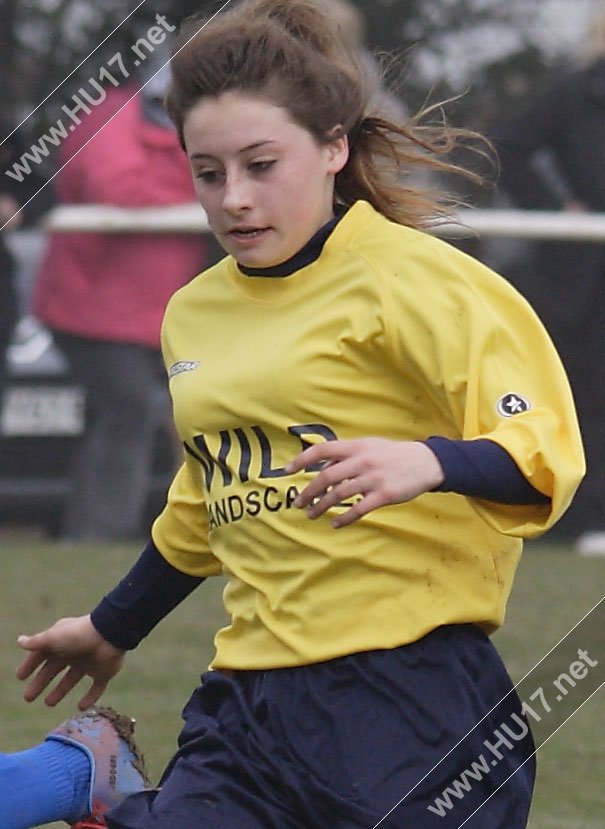 Mill Lane United moved a step closer to the East Riding Girls Football League title with a battling performance against one of their main rivals Costello. The teams had met 3 times already this season with the score 2 1 in Mill Lane United's favour and another pulsating game was anticipated.
The game started in foggy conditions and Costello made the better start. First to every ball Costello were determined to make their size and physical advantage count ,well organised and determined Costello were on the front foot in the early exchanges as they tried to inflict the first defeat of the season on the Beverley side.
Given no time on the ball Mill Lane United were struggling to play their normal trade mark football against committed opponents that knew defeat would be the end of their title challenge. Both sides were trying to play football ,but with Costello enjoying the lion's share of possession and territorial advantage and only last ditch defence led by Emily Holliday, Amy Radford, Chloe Johnstone and Charlotte Holliday kept a strong physical forward line at bay. At the other end on the few occasions Mill Lane United created a half chance they were thwarted by a well organised defensive line and excellent goal keeping by the stand in keeper.
Finally the deadlock was broken as Costello took a deserved lead, a poor defensive clearance fell to a Costello striker, quickly getting the ball under control and spotting the Mill Lane United keeper off her line before despatching a superb 25yard shot into the back of the net. It was no more than Costello deserved as they dominated their high flying opponents in every part of the game. The rest of the half saw Costello in control ,but unable to create any more chances and the whistle blew for half time with Costello in a deserved 1 0 lead.
Mill Lane United's half time team talk revolved around commitment and desire which was a little bit lacking in the first half as they tried to get back into the game. Straight from the kick off Mill Lane United made their intentions clear as they chased and harried to pressurise their opponents. If the Beverley side were a little bit off colour in the first half the second half was a total reverse. Starting to win the 50/50 challenges in defence with Charlotte and Emily Holliday leading the way Mill Lane United started to gain a foot hole in Costello's half .
With the midfield enjoying the extra possession Mill Lane United started to take control with Tonya Storr and Emma Johnson covering every blade of grass as they tackled themselves to a standstill and creating that extra bit of space for midfield general Emma Smith, the chances soon came. Camped in the Costello half Mill Lane United did everything but score hitting the post having several fine shots saved by outstanding goalkeeping and a disallowed goal for offside it looked like it would be one of those days.
Finally with 15minutes left Mill Lane United scored a deserved equaliser that their second half efforts deserved, a clever through ball from Smith put striker Keely Forward through on goal and a cool finish into the bottom left hand corner put Mill Lane United level. The final 10minutes saw both teams battle to the end chasing the winner, but the final whistle blew with both side level at 1 – 1.
A great advert for the league two fully committed teams showing courage, skill and determination in buckets loads and a share of the points a fair reflection of the game as a whole. For Mill Lane United first points of the season lost but in reality they will consider it a point gained against the best team they have faced this season.
Performance wise for the Beverley side standout performances from Charlotte and Emily Holliday with some excellent ball distribution and defence ,in midfield outstanding and commitment displays from Emma Johnson and Tonya Storr and that extra bit of class from Emma Smith to unlock a water tight defence. Man of the matches this week for tackling machine Tonya Storr and defender Charlotte Holliday currently enjoying a new lease of life in a new defensive position.
Reported by Malcolm Holliday