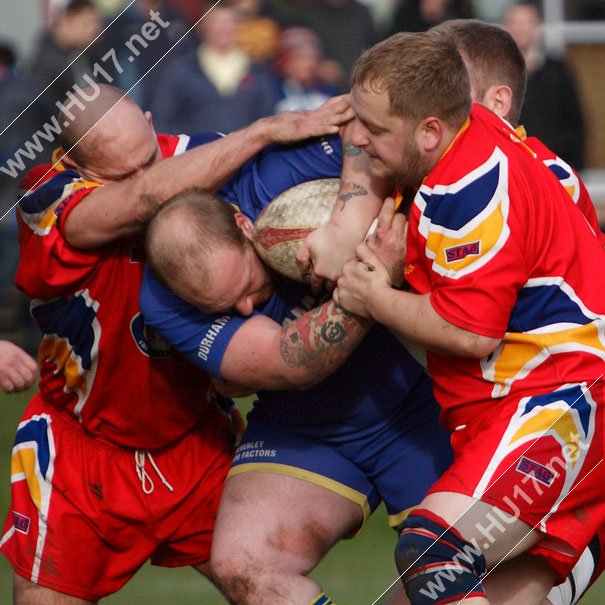 This was a creditable and encouraging performance by the blue and golds against a side in third place in the league.
A combination of suspensions, holiday and work commitments left them without key players Lee Stevens, Gavin Platt, Craig Hamlet and Adam Norton yet for long periods of the game they looked capable of winning.
The home side went straight on the attack in the opening exchanges before Mike Cooper intercepted to race 60 metres only to be thwarted with a last ditch tackle. However with the field position set up, shortly after the ball was shipped wide with Cooper again involved in sending Lee Atkinson over in the corner for an unconverted try.
This proved to be a rare excursion into the Fenners 20 metre zone as the home side then began to dominate possession and territory and it took some resolute defending to keep them at bay. Full back Lee Falcus dealt with the aerial bombardment well and returned most kicks with interest. He caught the eye with one clearing run which gained all of 50 metres. When the visitors defence finally cracked, Fenners notched three tries to lead 16-4 at the break.
The second half proved to be a real arm wrestle. The younger members of Beverley ARLC's pack really got stuck into the opposition namely Callum O'Connor, Gareth Lane and man of the match Phil Hill who has been one of the success stories of the season. Also Steve Connolly worked himself to a standstill particularly in defence. The visitors were prepared to move the ball wide at regular intervals but the final pass to the wingman so often went to ground.
The second half remained scoreless until the 65th minute when Fenners managed a try following pressure aided by a string of penalties. The result was now beyond doubt but sustained pressure on the hosts line finally saw Ryan Watkin force his way over. Watkin converted his own try to reduce the arrears and give a respectable look to the score line.
This Saturday Beverley ARLC return to league action away to first placed Holderness Vikings kicking off at 2pm at Saltaugh Fields.
Beverley ARLC would wish to extend their condolences after Chris Deyes, the wife of long serving Secretary Keith Deyes passed away last Thursday after a short illness.
Final Score: Fenners 20 Beverley ARLC 20