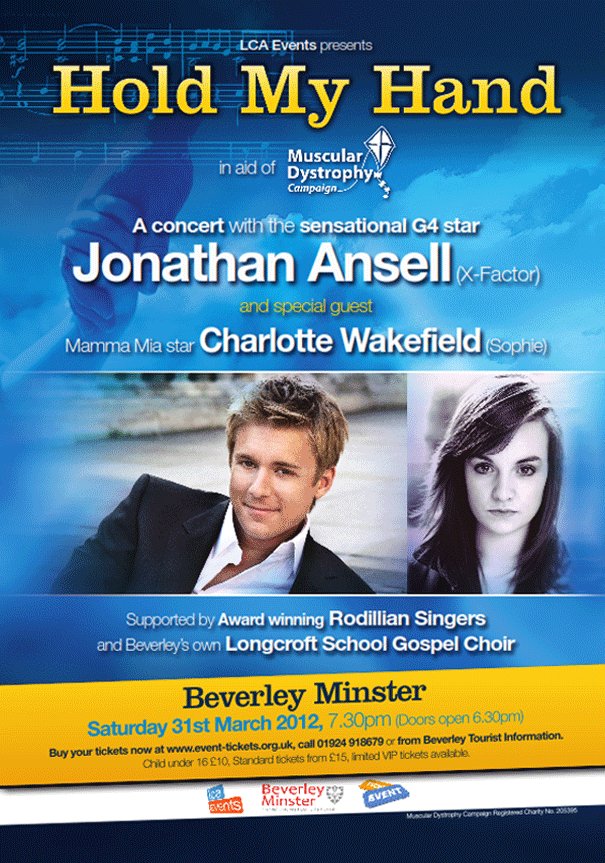 Former X Factor star Jonathan Ansell will be in Beverley later this month where he will perform at the "Hold My Hand" concert in aid of the Muscular Dystrophy Campaign. The ex G4 frontman will perform a diverse repertoire from pop anthems through to classic arias.
Jonathan will be supported by Mamma Mia star Charlotte Wakefield, award winning female voice choir the Rodillian Singers and Beverley's own Longcroft Gospel Choir.
"Hold my Hand" was established by Richard and Gill Atkinson when their son Austin (now aged 6) was diagnosed with congenital muscular dystrophy and it is hoped the event, to be held in Beverley Minster on March 31st will raise vital funds to support the work of the Muscular Dystrophy Campaign. Muscular Dystrophy affects around 70,000 people in this country. This cruel life limiting condition weakens muscles and generally causes them to waste away. When Austin was diagnosed at the age of 2 his family had to face the fact that he may never be able to walk and that they may never be able to walk with him holding his hand.
When Austin was 3 the Atkinsons visited the zoo for a family day out. It was a lovely day, the sun was shining and Austin and Esther (now aged 4) watched the animals with great interest. It was one of those days they will always remember. It was whilst walking around the zoo both Austin and Esther in their double pushchair, Austin looked up at Gill and said, "Mummy, will you hold my hand?", and there it was, with tears in eyes "Hold My Hand" was born.
The team behind the event have hosted many spectacular concerts in prestigious venues with famous artists such as Katherine Jenkins, Russell Watson and Lee Mead and are looking forward to providing a wonderful evening of entertainment to Beverley with Jonathan Ansell.
The team asked Jonathan to perform again in Beverley after they organised a successful evening in November 2011 when people attending a concert in Wakefield Cathedral described his performance as "World class", "Nothing like it", and "Best concert I've been to…"
Jonathan is always amazed at the vast distances his fans cover to see him perform and many are visiting Beverley for the first time with people travelling from all corners of the United Kingdom.
Jonathan said, "Please come along to support this worthy cause, there are so many people, mostly children affected by this relentless condition and they desperately need our help", "I am really looking forward to performing in the beautiful Beverley Minster, and I am looking forward to seeing you all there".
Tickets are still available for the concert on 01924 918679 or www.event-tickets.org.uk . Donations to the Muscular Dystrophy Campaign are invited through www.justgiving.com/HoldMyHand