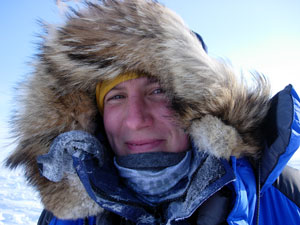 A team of Beverley Business people are bringing a globally recognised event to our region in February with the first ever TEDx Hull.
TED – which stands for Technology, Entertainment and Design – is an international non-profit making body dedicated to spreading ideas and stimulating dialogue. For the last 28 years TED has brought together the worlds' most fascinating thinkers and doers, challenging them to give the talk of their lives (in 18 minutes or less).
TEDx Hull celebrates the spirit of TED's mission, "ideas worth spreading", giving communities, organizations and individuals the opportunity to stimulate dialogue through TED-like experiences at the local level.
There are a diverse range of speakers travelling from all parts of the UK to talk at the event, including the ADVENTURER Felicity Aston, who this month became the first woman to ski solo across Antarctica.
This will be the first time in the organisations near 30 year history it has come to East Yorkshire.
Felicity will be joined by a host of other top speakers, both local and from further-a-field, including science fiction writer Adam Roberts, astrobiologist Dr Lewis Dartnell, TV psychologist Honey Lancaster-James and ultra-endurance runner Robin Harvie.
TEDx Hull, which has been organised by local business people John Royle of Glanton and Hannah Thoresby and Helen Bissett of branding agency H&H, will also include talks from local playwright Dave Windass, Dr of Engineering – Jim Gilbert and Andy Kirkpatrick, regarded as one of the world's foremost mountain climbers.
Helen Bissett, MD of H&H, said she was expecting TEDx Hull to be a very inspirational event. "It isn't necessarily about high profile speakers coming along and telling you about their success," she said.
"Speakers are selected because they have a different way of looking at things or they have come up with a great idea and want a forum to share it. They challenge the audience look at things differently too.
It's about pushing human learning and knowledge forward in an accessible way, so in that sense there is nothing quite like TEDx, it is fantastic."
The event, which is sponsored by Hull telecoms company KC, will take place on February 21st. Tickets are on sale now and available from www.tedxhull.com
John said that he was delighted the organising team, which also includes Adrian Allen from the University of Hull, had managed to secure the first East Yorkshire TEDx event for the city.
He said: "TED is extremely protective of the brand and vet the speakers and the venue before agreeing to grant a licence, therefore we had to put a lot of work into it before we even knew the event would get the go ahead.
"Thankfully though it did and I think that is great news for Hull."
Hannah added: "It is further proof of how up and coming the city is and I'm sure that is something the speakers will recognise that when they are here."