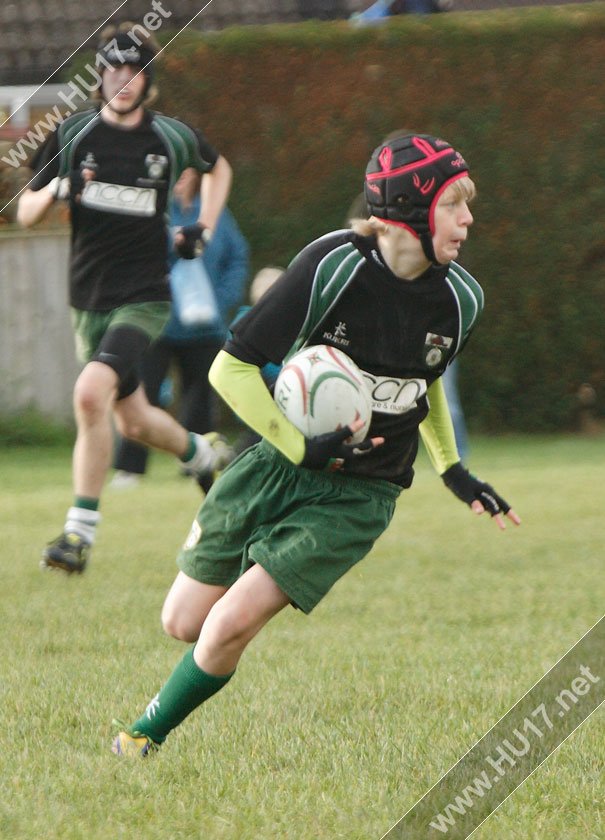 Lingering Fog at Beaver Park didn't stop Cleckheaton making their journey to Beverley for a rematch, previously Beverley had beaten them in the season.
The under 14s team have been very lucky this season with an influx of players allowing a 2nd team to be developed and their first chance to play .
The first team kicked off and quickly moved forward within minutes the first try was taken by Ben Smith and neatly converted by Niall Carruthers.
Beverley kept the pressure on and with some skillful swerves and fast pace saw Jack Garvin slide over for a try which wasnt converted . The front row of Paul Levine , Joe Gillyon and Ben Smith held the scrums tight and moved forward.
Tom Meagher showed his strength with forceful tackling and quick movement of the ball . Garvin was not finished with his runs and strode through Cleckheatons defence to score another try with no conversion.
The ball was kicked high into the air and which sent both teams stampeding to gain possession , passing through hands of Robert Cunningham and Charlie Mclusker ,Chris Chapman seized the chance and took the ball over the try line again converted by Niall Carruthers.
Cleckheaton come the second half took some possession of the ball and continued to pressurise Beverley , they had a few missed chances to score as Beverleys defence was relentless. Cameron Young and Hal Smithson finding the ball and making ground up the pitch finding the hands of Ruairi Sinkler and with a great roar he pushed aside Cleckheatons defence and scored , but no points from a missed conversion.
Plenty of rucks kept the ball low with Dan Constable and Harvey Rann driving over and allowing Hal Smithson to take the ball out and pass to wingman Jack Vorwerg . With plenty of pace and head down Jack swiftly took two more tries for his efforts only one of which was converted.
Before the final whistle Beverley took another try to see the final score Beverley 45 – 0
The second team saw some new players take to the field alongside a few experienced players and Cleckheaton had kindly agreed to take on a second match.
The match again was physical with plenty of tackles from Will Cook and the front row power of Paul Christmas and Matt Levine.
The first try came from Cleckheaton who showed some drive and commitment to take an early 5 points which wasnt converted.
Beverley picked up from this and saw some runs from Stephen Price setting up balls for his team mates Rory Johnson and Josh Felgate to move with . Scrums remained strong with Josh Howlett and Jake walker holding defence and Elliott Fletcher White moving in to assist.
Great work from Will Cook saw him take a try which he also converted and the team were able to celebrate their first win.
Reported by Amanda Price