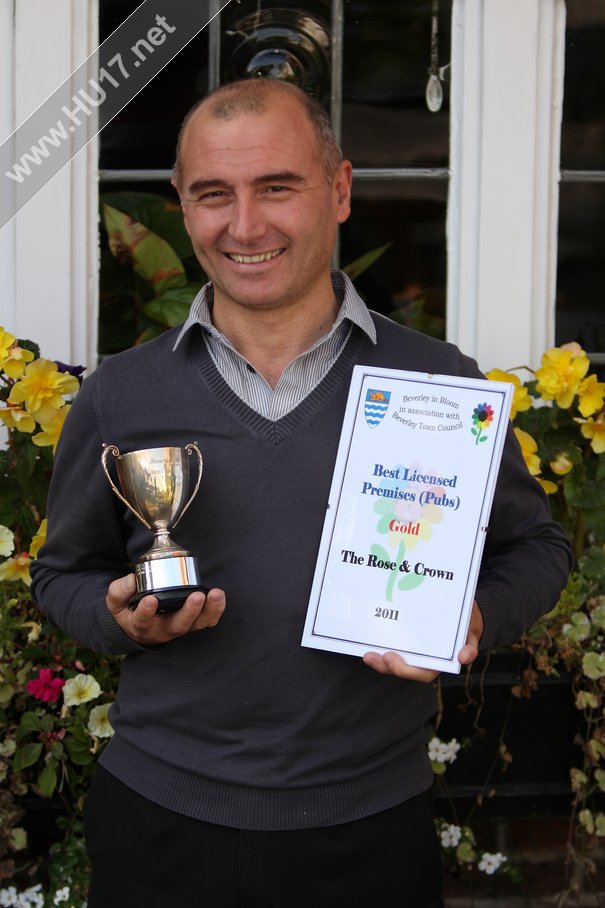 Winners of the Beverley in Bloom Competition collected their awards this week at the annual Beverley in Bloom Presentation Evening.
The awards are in recognition of their hard work producing excellent floral displays around the town and all entrants are to be congratulated for their community spirit.
Landlord of the Rose & Crown Erol Celik whos pub won a gold ward said;
"I am very proud to get such recognition; it was hard work watering the plants everyday though this has made it all wroth while."
"Everyone here at the Rose & Crown was delighted and we have the cup and certificate on display for our customers to see."
The trophy winners for each category are:

Educational Endeavour Award – 5th Beverley (Wesley) Guides – Silver Gilt
Best Retail Premises Award- Beverley Carpets Ltd – Silver Gilt
Best Café Award – The Tea Cosy – Silver Gilt
Community Endeavour Award – Beverley Grange Nursing Home – Silver Gilt
Best Shop Window Award – Tabatha's – Silver
Best Professional Premises Award – Beverley Racecourse – Silver Gilt
Best Pub Award –  The Rose & Crown – Gold
Best All Year Round Garden – Dorothy Burn – Gold
Most Imaginative Use of Space – Sharon Stevenson – Silver
Best Vegetable Plot – Mathew Teal – Silver Gilt
Best Container Garden – Terry Coulbeck – Gold
Best Garden – Steven Dale – Silver Gilt
Many congratulations to them. Beverley in Bloom would also like to pass on their congratulations to Molescroft Primary School and St John of Beverley R.C. Primary School for their success in this year's Yorkshire in Bloom competition.
Next year is an important one for Beverley in Bloom as it is the Queen's Diamond Jubilee and Beverley is hoping to be one of the towns on the route of the Olympic torch.  Not only these events but entry to Yorkshire in Bloom is back on the agenda following successes in previous years.
All this means that it is important that the town looks its best and every effort needs to be made to make sure that it will be a year to remember.
Of course funding is essential to achieve this and at the presentation event, the Mayor of Beverley, Councillor Peter Astell, announced that the Town Council had agreed that up to £10,000 could be made available to Beverley in Bloom, from existing financial reserves.
The Beverley in Bloom group will be working hard to make this funding go as far as possible by doing much of the planting themselves and building on this year's initiative to involve school and youth groups in the town planting.
In addition, one of the regular Beverley in Bloom judges Chris Dawson has devised a Gardener's Question Time Fundraising Quiz.  This consists of a quiz sheet of 25 flora related questions – a mixture of trivia type with the odd horticultural one thrown in to test the gardeners out there.
The winner will be the entry with the most correct answers.  In the event of a tie, the winner will be drawn from the entries with the most correct answers.
There is a prize of a £10 National Garden Gift Voucher, kindly donated by Crofts Nurseries and Garden Centre on Hull Bridge Road.
Entry sheets are available from Beverley Information Office in Butcher's Row and the Town Council Office in Well Lane at a cost of £1 each.
Completed entries need to be returned to Beverley Town Council, 12 Well Lane, Beverley, HU17 9BL by the closing date of November 30th 2011.
We hope as many of you as possible will join in to help make sure next year is the best ever for floral displays around the town especially if it is on camera for the Olympic Torch run.