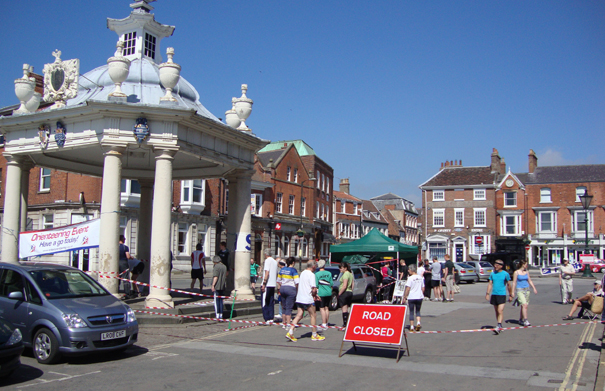 The heat on Sunday didn't stop runners posting some very fast times through the streets and alleyways of Beverley.
Over 100 competitors took part, with experienced Orienteers travelling from as far afield as Coventry, Middlesborough and Manchester, for this the second running of the Beverley Urban Orienteering Race.
The event which was organised by Humberside and Lincolnshire Orienteers (HALO), started and finished in the Market Square and also attracted interest from many passing locals.
Planner, Neil Harvatt, said, "It was great to see many locals taking part even though they had never tried Orienteering before.  Many of the experienced Orienteers were very impressed with Beverley, especially the opportunity to navigate around landmarks such as The Minster, The
Friary and the intricate alleyways of the Town Centre.  It shows that Orienteering can be just as much a challenge in town centres as it is in the forests and moorlands of North Yorkshire".
The Men's Open was won by Brian Ward, from South Cave by the tightest of margins.  Adam Bradbury of Rotherham was only one second behind him.  England Junior International Zac Field from Beverley was third.
Another England Junior Charlotte Ward followed in her father's footsteps by taking The Women's Open title, by a massive margin of 12 minutes.
However only two seconds separated second and third in this category.  York's Amanda Cooper just pipping Emma Harrison from the East Pennine Orienteering Club.
Nearly fifty controls had been place in and around Beverley with each course visiting a combination of them.  Five separate courses were available, ranging in length from 1.3 km to 6.4 km.
Full results and photos are available from the HALO website www.halo-orienteering.org.uk
The next Orienteering events in the East Riding are on Beverley Westwood on July 6th and at Hull University on July 23rd.
Further details of this, and other, HALO Orienteering events can be found on the website or by emailing neil@halo-orienteering.org.uk
HALO also runs a weekly club night at Beverley Longcroft School on Mondays (6:30pm to 8:00pm) during term-time.  New members always welcome.  (Details available from email and web-site contacts as above)