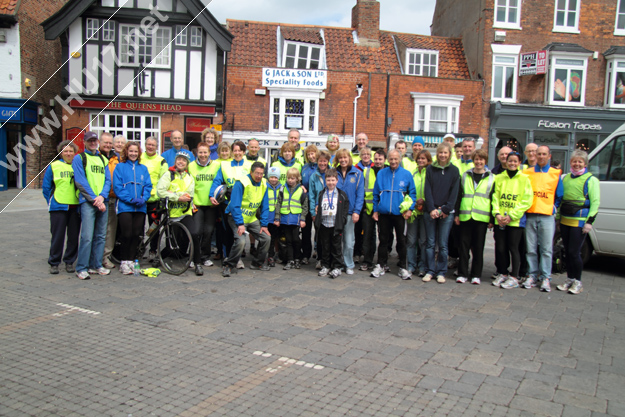 Members of Beverley Athletic Club are making the final preparations for this Sunday's Hall Construction Beverley 10k which starts next to the Minster in Eastgate at 11.15.
Amongst the field of 1200 runners are last year's winner Darran Bilton, course record holder Andy Lyons and Beverley AC's top runners James Pearson, Rob Snaith and Matt Chadwick.  Bilton has an excellent record in the race but he has not beaten the course record of 30:17 set by Andy Lyons in 1995.  It is only two weeks since Bilton won his fifth consecutive Masters individual age category title in the London Marathon but he will still be a tough competitor to beat.
In the ladies' competition last year's winner and course record holder Lizzie Adams will not be running but former course record holder Melanie Hayward has entered.  She heads a strong Beverley AC team which also includes Lucy Stamford, Julie Donald and Claire Traynor.
Runners in the popular B&A Scaffolding 2k fun run will be supported by Bertie the Beaver and Roary the Tiger.  It is also hoped that Hull KR's Rufus Robin and Hull FC's Airlie Bird will join them.
Hundreds of spectators are expected to watch the race and as usual there will be a terrific atmosphere in the town centre.  Several bands have been engaged to provide music around the town.  Roxxolid will entertain competitors and supporters at the leisure centre; the Beverley Brass Band will provide music at the Market Cross; and Rockhouse will be in Angel Square to encourage the runners along the last few metres to the finish.
Motorists will experience delays in and around the town, in particular in the area around the leisure centre Wednesday Market and Lairgate.  There will be parking restrictions and rolling road closures for the duration of the race.  Beverley Athletic Club would like to thank motorists for their patience during the road closures which ensure the safety of athletes and drivers.
NB  Entries for the 10k and the fun run have closed.  There will be no entries on the day.