Strong late hitting from Faisal Abid wasn't enough to bring Beverley Town Cricket Club victory in their first friendly of the season at the Norwood Recreation Ground.
Beverley ended up 10 runs short of visiting side Hunslet Nelson CC, who have just been promoted to the Premier Division of the Central Yorkshire League.
But in reality and on the most beautiful of spring days that brought out a healthy little crowd, the result was inconsequential as both batsmen and bowlers got the work-out they needed on a classic slow, early-season pitch – nothing like the usual batting paradise.
Returning Peter Groves and Alex Morrell made early inroads into the Hunslet batting and were backed up well by Jodie Mudd, emphasising Beverley's strength in the pace department.
However, some big hitting late on saw the visitors post a respectable 190 from their 40 overs, which meant even for a friendly it was game on.
Hunslet's opening bowlers were too good for the top order as Beverley quickly lost three wickets. Jamie Mitchell steadied the ship and as Hunslet started to believe they were strolling to victory, Abid started to play his shots.
He brought up a cracking 50 but looked like he was wearing diving boots when he was run out with his side still in with a chance.
Skipper Alan Acklam came and went quickly – a beefy heave at a leg stump delivery failed to connect and his stumps were sent flying – and with his departure Beverley's hopes of winning went too.
Although it was a defeat, it was the perfect warm-up for more serious matches to come.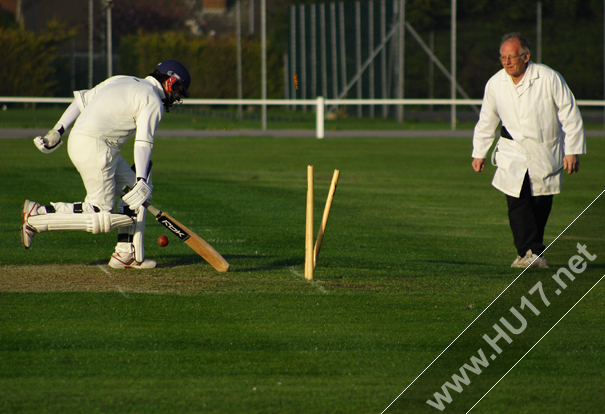 HU17.net Picture Gallery: Click on the thumbnail picture below to enlarge the image to full size
HU17.net Picture Gallery: Click on the thumbnail picture below to enlarge the image to full size