Councillor David Rudd, the Chairman of East Riding of Yorkshire Council, opened a new £750,000 music education centre in Beverley today.
The Hexagon Centre, located on Coltman Avenue, represents a significant investment by the council to improve the music facilities for East Riding children and the schools' music service. The opening ceremony takes place at 2pm.
Robert Mitchell, head of East Riding Schools' Music Service, said: "Music is such an important part of every child's education and this new facility will give this area's children a fantastic opportunity to turn music into a lifelong passion. "We know that when music is an integral part of children's learning that they benefit from improved cognitive skills and enjoy greater confidence and social abilities. These are lessons for life."
The Hexagon Music Centre is a highly imaginative remodelling and refurbishment of a former infant school and provides not only modern office accommodation but also a number of rehearsal and teaching spaces to encourage group music making.
Mr Mitchell added: "The music service in the East Riding now has a home that can transform the experience of our young musicians."
The Hexagon has already been filled with the sound of music making after a range of events during the first four weeks of this term. The centre has hosted master classes and workshops for the Beverley Chamber Music Festival and a workshop for the British Trombone Society.
Mr Mitchell added: "The Hexagon will also be the base for a number of ensemble rehearsals including the senior wind band, youth jazz orchestra and two percussion ensembles and there are plans to hold a number of youth orchestra rehearsals at the centre.
"We can already see the value of the new building as a training, rehearsal and performance space. We are receiving enquiries from a wide range of potential users who are keen to experience the first class facilities that we now have available."
Kate Leonard, Chairman, Friends of East Riding Youth Orchestras and Bob Mitchell, Head of The Schools Music Service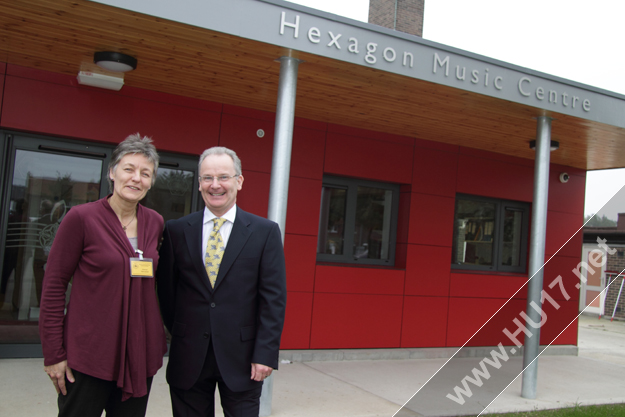 HU17.net Picture Gallery: Click on the thumbnail picture below to enlarge the image to full size
HU17.net Picture Gallery: Click on the thumbnail picture below to enlarge the image to full size
Concerts Organised by the Schools Music Service