As beautiful as historic buildings are, they take some looking after, as Steve Rial is only too well aware.
Having worked at Beverley Minster for almost 21 years, Steve has been instrumental in the preservation and repair of this stunning piece of history that took 200 years to build, and is therefore between 800 and 600 years old depending on which part you are looking at.
One of Steve's current tasks is to replace the lead down-pipes that carry the rainwater from the vast roof into underground drains.  It is not a quick job.  Steve and his team have been working on this project for several years.
Steve told HU17.net " The down-pipes I'm removing are approximately 100 years old.  They were predominantly two-section pipes, 17ft in length, which have sagged over the years and pulled out of the brackets. The new down-pipes are being fitted with an extra bronze bracket in between the original ones, and all the new joints are welded so they are load-bearing."
The new pipes have been formed from rolls of lead in the Minster workshops by Steve and his team, and HU17.net were there to see one of these heavy pipes dropped into place high above the ground.  This particular pipe carries the name of the current Vicar of Beverley Minster, Reverend Jeremy Fletcher, carved into the surface.  Each section of pipe weighs around 40-50kg, but as pipes go, it is beautifully crafted and fits like a glove.
Once the new piece of pipe is in place, the edges are eased together using a boxwood dresser, and are rasped smoothed.  Steve immediately treats the surface of the pipe with Patination Oil to prevent rain-water from staining the lead white.
At the top of the down-pipe, at roof-gutter level, Steve re-fits the 'Hopper-head', a solid lead collar section that collects rain-water from the roof gulley.  The scaffold platform at this height is very small, so it is a heart-stopping moment when Steve lifts this incredibly heavy 300-year-old piece of the Minster off the roof, and slots it onto the top of the pipe.  It looks perfect, but Steve is not entirely satisfied.  "When you work on a building like this, you soon learn that no two pieces are the same.  They may all look uniform and identical from the ground, but the measurements are slightly different on every one, and we've got to get it right.  This building will be here forever, I hope, and everything I do today should still be here in a hundred years or more.  That's what I love about it."
Back at ground-level, Steve points out the many other names that he has carved into the pipes during this restoration, including his own.  He also proudly showed off his yard just across the street – a beautifully tidy, lawned square edged with shelters and old brick walls and workshops that have a history all of their own.  Parked in between the neat timber stores and tools is a 100-year-old hand-cart that is still used by the team for moving just about anything in and around the Minster.  "Be it lead pipe-work, iron gates or huge pieces of stone, nothing in this fine building is light-weight, and I don't know what we'd do without our cart."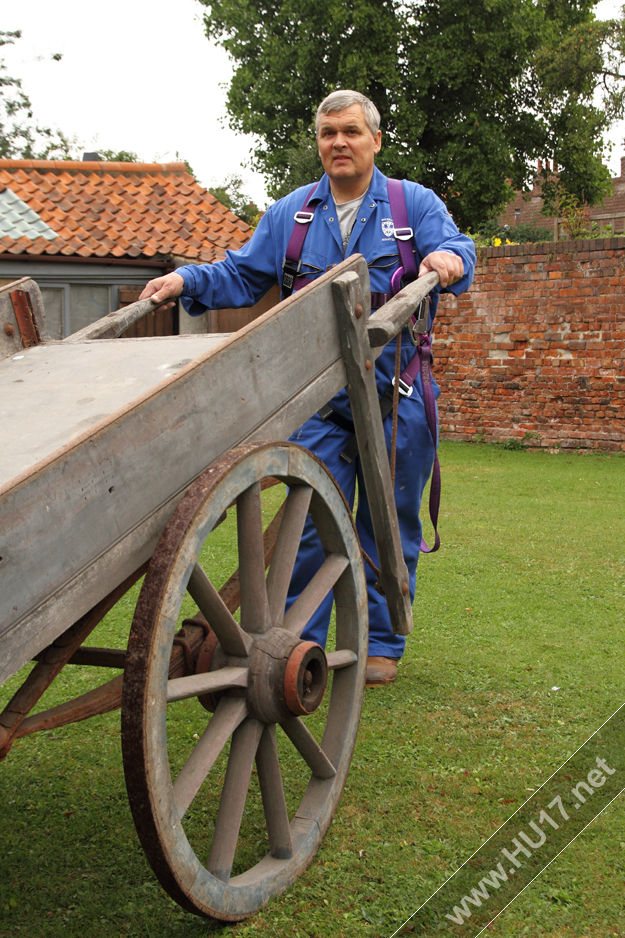 HU17.net Picture Gallery: Click on the thumbnail picture below to enlarge the image to full size
HU17.net Picture Gallery: Click on the thumbnail picture below to enlarge the image to full size