A desire for relevance has been a huge driving force behind the Beverley Town Trail.
The launch of the Beverley Medieval Guilds & Crafts Town Trail, in Wednesday Market, proved a great success yesterday. Hundreds of people of all ages enjoyed a superb afternoon as schoolchildren delivered a series of performances that demonstrated Beverley's rich history.
The main stage, surely the forerunner to other events in Wednesday Market, was a vibrant affair as schoolchildren from Swinemoor, St Mary's and Molescroft Primary Schools performed in front of an appreciative crowd.
The theme from Dad's Army and a rendition of Any Old Iron were the highlights of the performance.
And it helped emphasise just what the Town Trail stands for, according to one prominent member of the Town Trail committee.
Local historian Berna Moody has been part of the committee that has, for the best part of a decade, worked to bring the vision of the Beverley Town Trail to life.
She told HU17.net: "Myself and Pam Hopkins, we have been the history input into it.
"It has been so worthwhile because when I was at school history was kings and queens and the battles that were fought and it all seemed to be strife, while the everyday people were getting on with their lives, working hard and learning crafts and skills.
"This is to celebrate those people who really have made Beverley the wonderful town it is today.
"I was conscious when I was watching the children on the stage that many of their fathers and forebears would have been members of the crafts and guilds of Beverley
"It has surpassed what I imagined it to be in so many ways. It's subtle, that's the joy of it."
Former Beverley Town Mayor Duncan Jack was one of the original members of the Town Trail Committee.
He was delighted to see so many people celebrate what is a fantastic addition to the history and heritage of Beverley.
He said: "I am absolutely thrilled, the weather has treated us well and to see schools and everyone come together it is uplifting to see.
"What I am most pleased about that it is not in your face, if you want to find it it is there but it does not intrude on the town. I think it has been subtely done by the artist Chris Wormald. If you want to find it it is there but otherwise it is discretely done, which is very pleasing.
"We have had people from all sorts of fields involved and it has been marvellous. We have had archeologists, historians, we've had a graphic designer, people who have been involved in tourism
"Tom Martin (chairman of the committee) has been terrific. What a worker and a grafter he is and he's been absolutely great.
"It's great on a day like this to see it finally in place."
A huge chunk of the funding for the trail has come from the Heritage Lottery Fund.
The HLF's Fiona Spears was fulsome in her praise of the efforts to bring the Town Trail to Beverley.
She said: "The sculptures are subtle, delicate and allow those who want to discover their heritage to do so and at the same time they do not overpower the modern setting.
"A lot of people have been involved in this and I am sorry if it was our insistence that caused you to have a lot more work to do but it is really rewarding to see how it has all come together and the experiences have forged a genuine community project."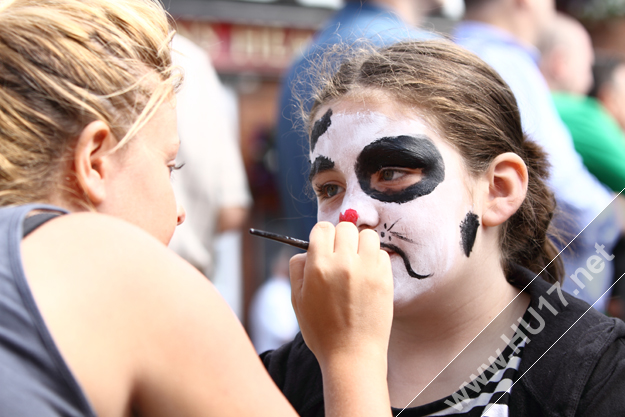 HU17.net Picture Gallery: Click on the thumbnail picture below to enlarge the image to full size
HU17.net Picture Gallery: Click on the thumbnail picture below to enlarge the image to full size