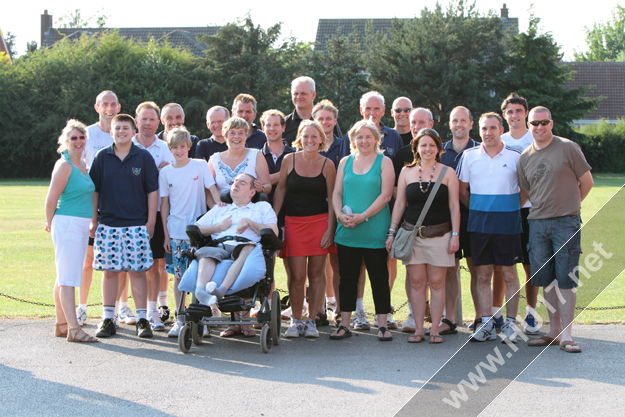 The fourth Charity Shield Day event passed without injury or incident in very hot and sticky conditions. This is the first year that Racketball has been played instead of squash by 24 players contesting for the Shield in 8 teams of 3. The gallery full of players and supporters, the courts ringing to the sound of string on ball and ball to wall. Loyal supporters leaning over the gallery rail straining to see every inch of the court over the shoulders of others calling out encouragement.
Andie Merrikin  again provided a table full of nibbles for player sustenance through the afternoon. With each game being won by the player with the most points after fifteen minutes non-stop effort; speed, skill and stamina favoured the winner. The team with the most points in their group of four, played off in the final and the runners up in each group played off for third and fourth place.
As the last match of the final started only 6 points separated the two teams.
Presentations and thanks in the evening sunshine outside the club house preceded hot dogs and refreshments from the bar with family and friends and a little world cup football.
Thanks go to all those who took part either playing, marking, supporting or organising.
All helped to make this another successful competition.
Playing on Court 1
Team 1:         Scott Manterfield     Harry Avison     Dave Tongeman
Team2:        Kevin Driscoll             Paul Leason        Mal Binns
Team3:         John Bottomley        Phil Moses           Ros Parvin
Team 4:        Jonathan Rollison    John Daniel        Dave Bowden
Playing on Court 2
Team5:        Eddie Cook           Andy Coates               Matthew Rollison
Team6:        Neil Gregory        Darran Tomlinson   Jackie Langley
Team7:         Mike Straw          Martin Carver            Graham Carver
Team8 :         Mike Rowe          Callum Barlow           Sheenagh Rollison
Results
1)    Runners up final – Team 2 won, beating Team 6 by 12 points in a match totalling 154 points
2)    FINAL – Team 5 won, beating Team 1 by 7 points in a match totalling 157 points
Our congratulations go to Eddie Cook, Andy Coates & Matthew Rollison – worthy winners of the Merrikin Shield for 2010.
To see what else the club is doing visit www.beverleysquash.co.uk