Tell me about this band's first show?
As Measure of Disorder our first show was in March 2008, we played at an event called the Youth café at the Beverley Minster. Since then, there have been a few line-up shuffles and so, this was our first gig in a year and a half! Currently, we are trying to get ourselves back into the mindset of playing life and hopefully surpassing where we once were.
What is your song writing process?
In MOD, we all chip in our ideas. Usually, Nez or Jonny will come up with a riff or an idea for a song, and then we jam around that riff and find the best sound we can. The addition of our new members has really kick-started our song writing process, as there are far more ideas for songs flowing around. Recently, we have been overhauling our vocals; it's certainly been an area for improvement before. Now though, we are coming up with some great lyrics and great vocal hooks, and it gives the sings that extra punch.
Why did each of you choose your instruments?
Jonny- Although I love heavy metal, and my two main influences with regards to how I play guitar and write guitar solos today are Kirk Hammett and James Hetfield of Metallica, my inspiration to pick up the guitar was watching Pink Floyd's 1994 Pulse concert and Roger Waters In The Flesh 2000 tour on DVD with my dad. Then, after seeing guitarists like Snowy White and David Gilmour, I knew instantly that the guitar was for me.
Jack- I always wanted to play music, whether it was in an orchestra or band, and in secondary school I had the opportunity to learn how to play one. It was almost by chance that I chose the drums, there were places available and the idea of being a rock star is always appealing! I tried out for a place and realised that everyone has an understanding of beat and rhythm, and that tapping into that would really be fulfilling. Playing the drums is truly a joy, it allows you to reach into the feelings deep within and express them. Despite the age old adage that the drums aren't really an instrument in the strictest sense, it truly is an art form to be able to show musically, feel and soul through a drum set.
Ross- My first instrument was the clarinet but there's not much calling for a classical instrument such as that in bands that I listen to and like, and I fancied the idea of being in a band. I had to therefore try my hand at other instruments, I've tried the bass and failed miserably, I've tried the guitar but I can't play to the standard that is required and so the only other choice was singer seen as though I can't keep a rhythm on drums to save my life! I knew I could sing as I was in a church choir, slightly different to the style of singing I do now but singing never the less and so a singer was born…
Nathan- I started the drums several years ago and seemed to find myself naturally progressing to the bass later on.
Nez- As well as the guitar, I also play the saxophone and the piano for me the guitar was another instrument for me to add to my playing. Since joining Measure Of Disorder, I have focused manly on guitar as it's been the most I've needed to play it.
Have you always played the kind of music you play now?
Essentially yes, we have. We like to describe ourselves as playing a new style of thrash metal. Since MOD's formation, we have pretty much played the same songs refining them as we develop musically. Recently, our music has taken its greatest change with the influence of our most recent members contributing to songs to give our music a deeper feel, and our future songs are bound to begin spanning bridges between different styles of heavy rock and metal.
Who or what has influenced your music the most?
Jonny- Over the last 3 years it's been without a doubt heavy metal. More specifically, old school 80's metal with bands such as Iron Maiden, Slayer, Megadeth, Metallica etc the new wave of British heavy metal to be more precise. When I first started playing guitar, I became heavily influence by prog rock with bands such as Genesis, Marillion and Pink Floyd. However in terms of specific guitarists, I would have to say my biggest influence by far is Kirk Hammett. I just love his use of pentatonic soloing, how he can take what is considered to be a straightforward and basic approach to rock and metal soloing, and make it sound so brilliantly complex. I like Kirk Hammett also love to use the wah wah pedal effect which adds extra spice to metal guitar solos.
Jack- my influences lie with my mother's music. I was raised on the 60's and 70's bands like Led Zeppelin, King Crimson, Eric Clapton, Deep Purple, Rainbow, Fleetwood Mac, The Police, Bob Marley etc. In Zeppelin especially, the star of the show was Bonham, he had such a raw and imaginative style, combining (then) usually foot techniques and triplet fills to beef out the songs. If anyone needs a reason to start playing drums it has to be Dazed and Confused, the drum fill after the guitar solo just dwarfs anything since! As such, I love to play "Bonham Triplets" and you will probably find those creeping around in our songs.
Ross- Vocally I love the singer from Muse, Matthew Bellamy as very few can sing in the octave that he can sing! I'm also very fond of Demons and Wizards which is collaboration between the two metal bands Blind Guardian and Iced Earth as their music is extremely technical and just all round brilliant.
Nathan- Early Punk stuff such as The Clash,, The Sex Pistols but also some of the more modern punk/funk music such as the Chili Peppers.
Nez- For me, folk music has been my biggest influence. I love the sound and the groove of folk music in particular.
What music artists do you most admire?
As a band, you can clearly see our influences come from bands such as Metallica, Megadeth, Slayer and Iron Maiden, and we greatly admire these bands as they have managed to become legends in their own rights. Individually, we all share admirations ranging from  one man and a guitar, acoustic to folk groups to classic rock and post hardcore and metal core! I think the moral is, a great range in musical tastes helps develop you musically, don't be afraid to admire any band if YOU like them.
If you weren't musicians, what would you ideally do for a living instead?
Jonny- Right now I'm at the University of Hull studying for a degree in Criminology. The course is great and incredibly interesting. In the future, I'm hoping to go into the research side of criminology, to find out more about why people commit criminal acts and what is it exactly that makes one person into a criminal? Their upbringing? Or are some people simply born criminals?
Jack- I really do feel that I have found my calling at university, I am very lucky to have chosen the right course and greatly enjoy biomedical science. Hopefully in the future I will progress into medical research and be involved in the process of helping people overcome debilitating, and deadly, diseases.
Ross- Ideally I would be a Doctor however that requires brain power that I have not got so I would instead be a Biomedical Scientist which just so happens to be what I'm working towards at this very point in time and space.
Nathan- I'd quite fancy being a stuntman, I love the risk element that is involved.
Nez- At the moment I'm studying Bio chem. At Hull university, so I would like to work in laboratories and do some work in Hospitals as well if possible.
What was the first song you ever played as a group?
In our current form, it was probably a cover of Metallica's Fade to Black, which we played at this gig. It's a personal favourite of Jack and Jonny's and the harmonised guitar riff at the end is truly a music masterpiece. In our past line-ups, the song was probably Nirvana's Heart Shaped Box, a simple song full of raw emotion that helped us to get together as a band and lock in with each others styles of playing.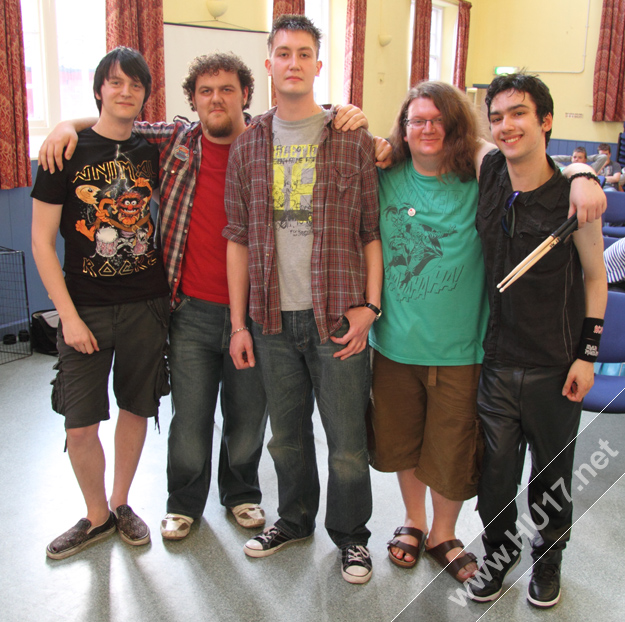 HU17.net Picture Gallery: Click on the thumbnail picture below to enlarge the image to full size
HU17.net Picture Gallery: Click on the thumbnail picture below to enlarge the image to full size