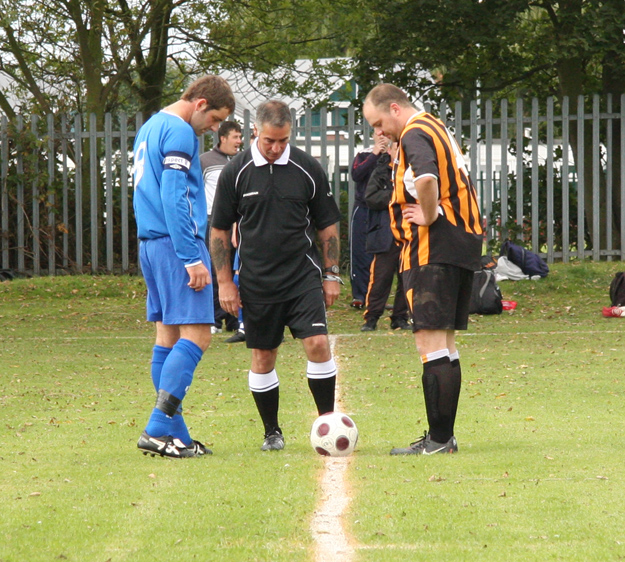 It's taken less than a year for Beverley's newest football team to make an indelible mark on the local football scene.
Swinemoor Estate side Humber Colts have clinched the Division 5 Wyke title of the Hull Men's Sunday League a scarcely credible 10 months after they were founded, after bottom side Outdoor Living pulled out of their final match of the season.
Winning 19 and losing just two of 22 league games, and with Michael Claxton spearheading the attack with 17 goals, the Colts swept all before them.
Although overshadowed in terms of league status by the likes of Beverley United, Mill Lane United and Hodgsons FC, there is no doubt the Humber Colts are starting to have an impact on the local scene – and are already ruffling the feathers of their more established rivals.
It's a triumph for co-founder Rob Hunter – landlord at the Humber Keel, the club's home base – and a triumph against the odds for residents who have fought tooth and nail to bring pride and a sense of belonging to the estate.
Hunter, who formed the club with fellow estate resident Mark Richardson, is understandably delighted with the achievement of his side and the commitment shown by a team and committee made up almost entirely of local lads.
And he refused to put a cap on just what the fledgling side can achieve.
"It's a monumental achievement," said Hunter.
"There's been an outstanding level of commitment, of time and of effort. There's been no team on the estate for a number of years and we wondered why the lads should travel out of town or even off the estate to play their football, especially when we had a disused pitch and everything we needed on the estate.
"It is astonishing because in just one season we have achieved more than other clubs will ever achieve.
"What can we achieve in the future? We have to aim high. We will look for promotion every year and a bit of a cup run – we can't ask for any more than that. We didn't expect this to happen so quickly, and it has given us confidence.
"Our long term aim is to reach the Premier League of the Hull Men's Sunday League – if you don't think you can succeed you may as well hang your coats up."
By anyone's standards, promotion and stability in a club's first season is remarkable.
It's even more outstanding when you consider the odds have been stacked against the Colts, and the effort it took just to get a side out on the field.
From foundation on July 1 2009, the new club rapidly achieved ERCAS status and gained an FA Charter and word spread so quickly that within three weeks, 30 local lads were turning up at training.
Just five weeks after formation they played and won their first game – 7-3 against Hull City Supporters at their Boucher Road ground – but even then there were substantial obstacles in their way, all of which have been overcome as the Colts went from strength to strength.
Hunter continued: "For that first match we had to borrow Tickton AFC's goalposts, and thanks to Tickton's Rob Musgrove, we managed to get them on to our ground, which in itself was complicated.
"We have since got funding to provide the essentials for a match day, but we still have nowhere to store it all and are exploring various avenues to get funding for a container for our ground. At the moment, kit is stored all over the estate.
"Over the course of the season, we have lost some players who have had attitude problems, but overall the coaching staff of Tony Henderson and Steve Buckley have done us proud and players have been really committed to the cause.
"Before the Colts came along, all the lads on this estate had to aim for was Mill Lane and Beverley United. We hope they can aim to play for Humber Colts in the future and be proud of the estate and the club, and in hard times for everyone the lads don't have to travel far to play.
"What more can you ask for than to play for your local club?"