Beverley has changed remarkably since World War Two. In 1945 the town had a population of around 16,000 people, was dominated by its weekly stock market and old factories which employed most of its residents in manual work. Older residents remember a town in which they knew the faces in the crowd, sons followed fathers into local factories,  most wives stayed at home and looked after children, neighbourhoods organised their own sports days, and young adults met each other on the "monkey walk".
By 2001, the former shipbuilding, tanning and engineering factories were closed, the cattle market demolished and replaced with a Tesco. The majority of the town's population, now expanded to around 30,000, depended on work in offices and other non-manual work; large housing estates were home to newer residents attracted by Beverley's historic ambience, yet whom often worked elsewhere.
Beverley made national headlines when the Royal Bank of Scotland pronounced it the "best place to live" nationally. I am undertaking PhD research trying to understand the implication of some of these changes for Beverley's working-class neighbourhoods.
So far I have interviewed many residents of the town, who have told me about the changes to life in Beverley going back seven or eight decades. I have heard about the industries of the town, what it was like to work in a noisy thriving shipyard and in Hodgsons, once one of the largest tanneries in Europe.
Residents have told me about leisure time spent on Hodgson's playing field, the Westwood golf club, in Armstrong's, Grosvenor, Catholic and Conservative social clubs, and in darts and dominoes teams in the local pubs. Some remembered the Beckside sports, organised by barge skippers up until World War Two and involving all manner of water-based competitions on the River Hull.
I have heard about the weekly dances at Hodgson's and Regal dance halls and the importance of Bricky Bridge as a place to learn to swim. I am keen to continue to build up this picture of social life and community change in the town, and would particularly like to interview people who lived in the working-class areas in the eastern part of Beverley – including Flemingate, Beckside, Holmechurch Lane , Grovehill Road and the Cherry Tree and Swinemoor Council estates – at any time between 1945 and 2000.
I do not only want to interview people who were "born and bred" in the town, but am also interested in the experiences of people who moved in and who moved away from Beverley. I do not just want to speak to more senior citizens, I am also interested in more recent memories up until the 1990s, and so would also like to speak to younger people.
If you are someone who would be willing to share your memories, or know of anyone else who might be happy to help, please contact me through HU17.net
Picture below: Coronation day celebrations on Hotham Square, 1953 – courtesy of Beverley Guild Hall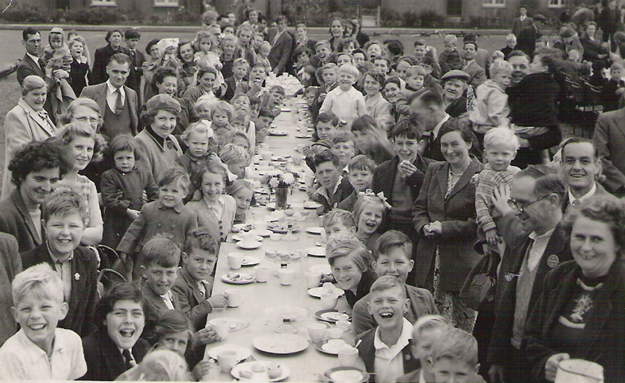 HU17.net Picture Gallery: Click on the thumbnail picture below to enlarge the image to full size
HU17.net Picture Gallery: Click on the thumbnail picture below to enlarge the image to full size
Photos taken from the East Riding Museums Service computer archive in the Beverley Guildhall.  All photos have been copied from members of the public who generously loaned them, and the full archive of over 1000 photos of people and places in Beverley can be seen in the Guildhall which is open every Friday.