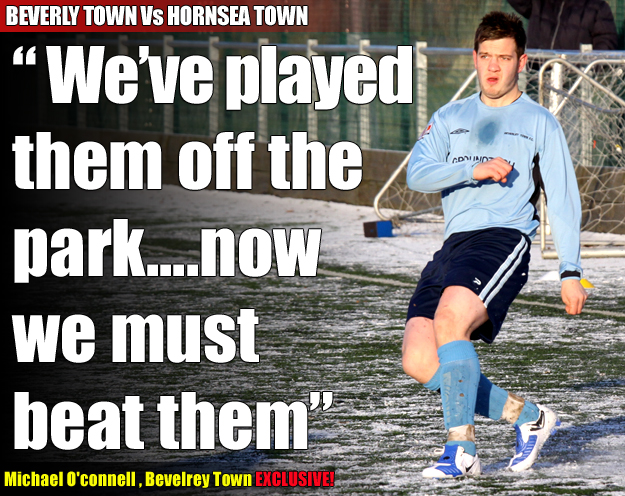 Beverley Town have the opportunity to got top of the Humber premier League at the expense of their closest rivals on Saturday as Beverley Town face Hornsea Town as first and second in the league go head to head. Last time the sides met in the league Beverley Town failed to capitalise on chances and came away with just a point.
Beverley Town midfielder Michael O'connell is keen to see the match go ahead despite key players missing including club captain Jonny Ricardo who is currently serving a ban, O'connell said;
"Football has changed, it is not about eleven players anymore, it is about squads you need strength and depth to suceed at al levels of the game, that is what is needed to challenge for honours and here at Beverley Town we have that.
True Jonny will be missed but it also gives other players a chance to shine and make an impact, Saturday is a real opportunity for all of us to go out there and get the points we need to go top of the table."
When asked about winning the Humber Premier League Title O'connell refused to comment instead he stressed the importance of picking up all three points on Saturday;
"We played them off the park at their ground, had we taken our chances we would be sitting top of the table instead we find ourselves playing catch up. This game is one we must and are confident of winning the season will be over in a matter of weeks and our goal is to be top of the table well before the final whistle of the final game on the final day."
Current league leaders and Beverley Town's next opponents Hornsea Town have so far this season out scored Beverley Town though their defence has conceded 26 goals compare to Beverley Town who have conceded just 19.
Defeat for Beverley Town could see the side drop down to fourth in the table with a even a draw leaving the possibly of drop to third place. With so much at stake Beverley Town simply must win this game however defeat would not spell total disaster in the race for the championship.