The Treasure House, Beverley, is this week taking delivery of a superb replica of one of the swords from the South Cave Weapons Cache, a unique collection of Iron Age swords and spears found by metal detectorists in 2002.
The sword and scabbard have been produced by Roland Williamson of Cheltenham-based firm Bodgit & Bendit, which makes high quality reproductions of historical artefacts from a variety of time periods.
Roland offers a range of over 200 items from a catalogue, but also accepts commissions on one-off pieces such as this sword. Due to the complexity of its construction, the variety of materials used and the need to research every detail thoroughly, the replica has taken nearly a year to produce.
The replica is part of a project supported by The Heritage Lottery Fund, which saw the weapons cache purchased, conserved and displayed at the Treasure House in Beverley.
Dr. David Marchant, museums registrar for East Riding of Yorkshire Council, said: "The replica will go on display early in 2010, along with text detailing the story of its making. It will then be used in educational workshops to demonstrate the level of craftsmanship and artistic skill that went into weapons making at this period. It is a painstaking, high quality reconstruction which I am sure will fascinate many of our visitors."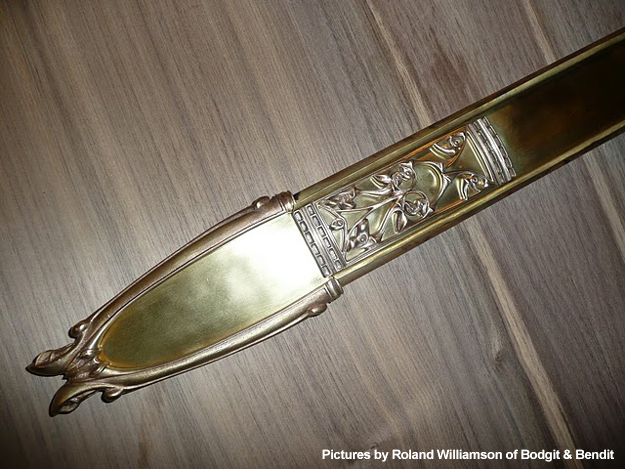 Above: The initial fitting of the brass sheathing to the scabbard and also with the bronzes set in their final position. It was apparent that the bronzes needed to be curved a little in their section. The brass is in two lengths with the rear overlapping and gripping the edges of the front piece. It all slides together in the fitting stage. The chape then slides over the ends to secure the bottom end.
See more pictures detailing the development of this replica click here